Lagarde's ECB Won't Let Investors Delay Facing Climate Risk
(Bloomberg) -- The European Central Bank has a warning for investors: deal with the financial risks from climate change soon or we'll do it for you.
Under President Christine Lagarde, who started the job a year ago pledging to give the institution a bigger role in fighting global warming, the ECB is reevaluating how dispassionate it should be in the marketplace.
That could result in a relatively mild shift such as urging companies to better disclose the risks they face, and ratings agencies to take them into account. But it could also mean the radical step of actively judging who should benefit from the massive bond-buying programs the ECB deploys to boost the economy.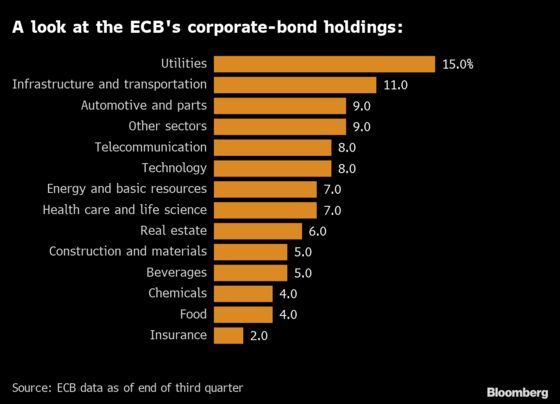 Either way, on Monday Lagarde gave her bluntest warning yet that she's not happy with the status quo, saying that "climate risks are not adequately priced."
The president is stepping into controversial territory. Some policy makers have fiercely defended market neutrality, under which the composition of the ECB's asset-purchase programs match the structure of the market as closely as possible.
Their argument is that to deviate would mean making choices -- which industries to favor and which to reject -- that should be left to elected politicians.
Yet the ECB is deeply embedded in the market. It has bought more than 3.5 trillion euros ($4.1 trillion) of debt to support the economy, and is set to expand stimulus in December. Its purchases of corporate bonds now total more than 260 billion euros.
That makes it increasingly vulnerable to any selloff, for example if the European Union's drive for a green recovery from the pandemic causes write-offs of carbon-intensive assets such as coal-fired power stations.
"The ECB has been very vocal about its intentions to continue to fight the climate crisis," said Mitch Reznick, head of sustainable fixed income at Hermes Fund Managers Ltd. "Its ambitions are very serious."
Lagarde's colleagues back her push to actively confront climate change, but diverge on how far they should go. The topic is on the agenda of the ECB's annual forum starting Wednesday, and will feed into a strategic review.
Market neutrality is probably still the Governing Council's preferred approach for now. There is broad agreement that the ECB can nudge investors toward more-realistic pricing of climate risk, for example by pushing for more transparency in financial disclosures.
The president has bemoaned that the information available so far is "at best inconsistent, largely incomparable, and at times unreliable."
One solution could be to insist that bond issuers clearly state the kind of projects they intend to fund. More work would also need to be done toward a universal catalog of what qualifies as green debt.
That could help credit-rating agencies assign lower investment grades for bonds funding unsustainable industries, affecting the cost of the debt.
As a result, the ECB could continue to use the market as its benchmark, an outcome preferred at the Bank of Italy and Germany's Bundesbank.
"It's not up to us central bankers to devise our own independent climate policies," Bundesbank President Jens Weidmann said this month. "We might end up correcting a political outcome that is there for a good reason, and without the democratic legitimacy."
Yet some ECB policy makers have already contemplated going further, including Executive Board member Isabel Schnabel.
"Should such measures not prove sufficient, or should they progress too slowly, we could consider other options," she said in September. "Such as, for example, excluding certain bonds -- based on clear and transparent rules -- that are used to finance projects that conflict with the decarbonization objectives of the EU."
That strategy could still be consistent with the ECB's mandate. While it is chiefly charged with ensuring price stability, it has a secondary objective of supporting the EU's economic policies.
Bank of France Governor Francois Villeroy de Galhau has offered another suggestion, saying the ECB could focus on the collateral that banks swap for cash. The central bank could adjust the discount -- known as a haircut -- it applies to the value of the securities after assessing them for their climate risk.
"This would be a very powerful trigger for financial markets to incorporate this kind of risk," he said during a session of the ECB's annual forum.
The ECB's review, delayed by the pandemic, won't wrap up until the second half of the year. Yet as Lagarde has said, market neutrality could be on the way out.
We have to ask "whether market neutrality should be the actual principle that drives our monetary-policy portfolio management," she said last month. "I'm not passing judgment on the fact that it should no longer be so, but it warrants the question."