Lagarde Says ECB Is 'Very Unlikely' to Hike Rates Next Year
European Central Bank President Christine Lagarde renewed her pushback against market bets for an interest-rate increase in 2022 after an attempt last week left investors unimpressed.
"In our forward guidance on interest rates, we have clearly articulated the three conditions that need to be satisfied before rates will start to rise," Lagarde said Wednesday in Lisbon. "Despite the current inflation surge, the outlook for inflation over the medium term remains subdued, and thus these three conditions are very unlikely to be satisfied next year."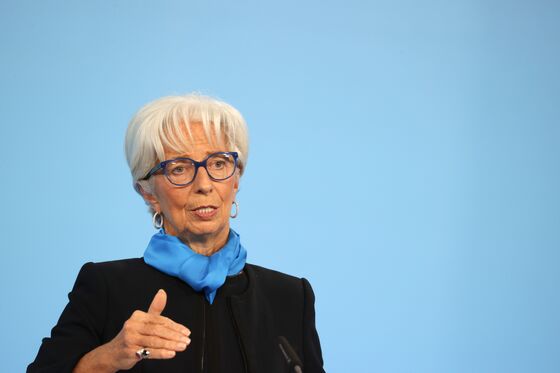 Speaking in a separate interview with Portuguese television station TVI, she doubled down on that sentiment, saying 2022 was "off the chart" in respect to interest rates.
Lagarde used the news conference following the Governing Council meeting last week to call market expectations for a rate hike inconsistent with the ECB's own analysis and forward guidance. But she stopped short of saying markets are wrong, reflecting an agreement within the Council that such a move could backfire.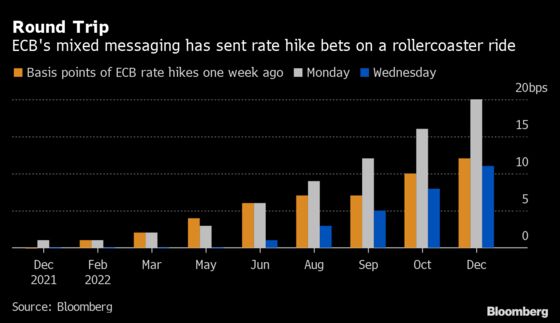 Money-market bets on an ECB rate increase by December 2022 have moderated a little this week after dovish remarks by the Reserve Bank of Australia. But they remained at 10 basis points of tightening following Lagarde's comments, down from 23 basis points on Monday.
The euro was 0.3% lower against the dollar at $1.1611.
"Lagarde is clearly correcting the collective vague pushback last week," said Piet Christiansen, chief strategist at Danske Bank A/S. "However, the damage isn't undone as the market will carry an ECB-risk premium. The front end is still with global developments and I don't think Lagarde or the ECB is able to push the pricing lower by themselves at this stage."
Recent market moves have been fueled by accelerating inflation across the globe and uncertainty over the outlook for prices. Euro-area inflation breached 4% in October, topping economist estimates, data showed Friday.
The ECB said last week that while the current phase of faster inflation will last longer than previously projected, price pressures should still ease once global supply chains heal and other special factors start to fade.
Bank of France Governor Francois Villeroy de Galhau echoed that sentiment at a panel discussion on Wednesday, saying "we're assured" that the current inflation spike is temporary, judging by previous economic recoveries.
Backing Lagarde on the monetary-policy outlook, he said "there's no reason for the ECB to raise its interest rates next year."
The central bank is gearing up for crucial policy decisions at its December meeting, when new economic forecasts become available. With Covid-19 disruption on the rise again, many analysts see the ECB boosting regular asset purchases once its 1.85 trillion-euro ($2.1 trillion) emergency bond-buying program ends in March.
"As for the calibration of bond purchases in a post-pandemic world, we will announce our intentions in December," Lagarde said. "Even after the expected end of the pandemic emergency, it will be still important that monetary policy -- including the appropriate calibration of asset purchases -- supports the recovery and the sustainable return of inflation to our target of 2%."
For now, the ECB will use emergency bond-buying to keep euro-area borrowing costs low, Lagarde said. An undue tightening of financing conditions "is not desirable at a time when purchasing power is already being squeezed by higher energy and fuel bills," she said.