Lagarde Leaves Draghi's Shadow for ECB Debut: Decision Day Guide
(Bloomberg) -- Explore what's moving the global economy in the new season of the Stephanomics podcast. Subscribe via Apple Podcast, Spotify or Pocket Cast.
Christine Lagarde finally has the chance to shake off the shadow of her predecessor on Thursday, at her debut press conference as European Central Bank president.
Unlike Mario Draghi, whose first interest-rate decision happened on his third day in charge, Lagarde has been in office six weeks without having chaired such a gathering, nor saying much on monetary matters beyond that current stimulus will remain in place. What she has pledged is a wide strategy review that leaves no stone unturned.
Now she faces a press conference in which she'll be judged on how convincingly she communicates the institution's plan to restore price stability. Her performance may be all the more important because, after building a career as a lawyer and politician, she's the first ECB leader not to have worked before as a central banker.
Only last week, she asked European lawmakers not to over-interpret her as she learns the language of her new colleagues.
"She'll be very pragmatic, in my opinion, as was her predecessor and as I was myself," Jean-Claude Trichet, who led the ECB from 2003 to 2011, told Bloomberg Television. "When you have to cope with new challenges, new threats, you take the appropriate decision after due meditation in the Governing Council."
The policy announcement -- right after the Federal Reserve and the Swiss National Bank both kept rates on hold -- is at 1:45 p.m. in Frankfurt, with Lagarde's briefing 45 minutes later. While analysts don't expect rates or asset purchases to change, there are plenty of unknowns. Here are some of them:
Should Lagarde take the opportunity to proclaim the ECB's first strategic review in 16 years, it'll attract questions on whether to change the inflation goal of "below, but close to, 2%" -- a vague target that some feel risks leaving price growth too weak -- and to what extent an overshoot is acceptable.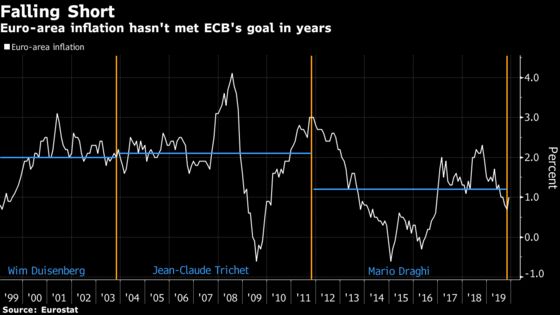 She'll need to muster her political acumen to avoid reopening old wounds. Bundesbank President Jens Weidmann -- the highest-profile opponent of Draghi's ultra-loose policies -- has already pushed back against allowing inflation to run hot.
Chief economist Philip Lane has said the review should be focused or risk being impossible to conclude, yet Lagarde has set herself up for a wide-ranging debate that could continue well into 2020.
One ambition is the fight against climate change. Policy makers have lined up to say that objective must take a back seat to the main task of reviving inflation, but Lagarde sees potential room for flexibility.
Speaking to European lawmakers last week, she signaled that questions about whether and how to skew purchases under quantitative easing toward green bonds will be addressed.
Lagarde will present the ECB's latest economic forecasts -- including a first reading for 2022, the earliest date at which economists see the central bank starting to exit its stimulus.
A key phrase to watch for is whether Lagarde says the risks to growth are still "on the downside." The euro area remains fragile, dented by trade tensions. Some indicators suggest the slowdown might be easing, but Germany is suffering its worst industrial slump in a decade.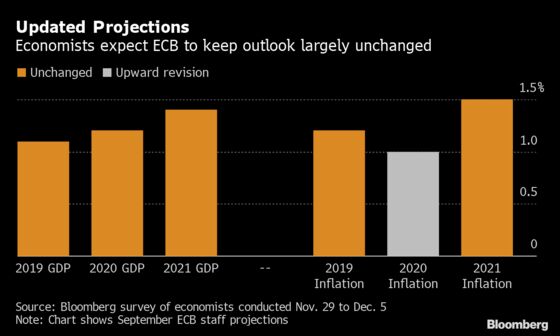 While the ECB is expected to reiterate that rates will stay at present "or lower" levels until the inflation goal is convincingly close, few investors believe the deposit rate will drop further below the current minus 0.5%. That's because some officials, including Lagarde, have warned about detrimental side effects such as financial bubbles, squeezed bank profitability and discontent among savers.
Lagarde will probably be pressed to explain how she'll square those concerns with the pledge to deliver more stimulus if needed. Italian governor Ignazio Visco said he prefers QE to rate cuts -- yet that's the most contentious instrument for some of his colleagues.
Earlier Thursday, banks showed their continued reliance on ECB funding by taking up almost 100 billion euros ($111 billion) in a new round of long-term loans.
In Switzerland, SNB President Thomas Jordan unleashed a staunch defense of negative rates, in a move that served to highlight rising opposition there. The central bank has the world's lowest rate, along with Denmark, at minus 0.75%.
Lagarde has been careful to echo her predecessor by promising to be "resolute" in delivering on the ECB's mandate, while pressuring governments to play a bigger role. She's also signaled a desire to go further than Draghi though, addressing topics such as the environment and the possibility of a central bank digital currency.
The question for investors is whether she'll muddy the ECB's message or whether her much-lauded diplomatic skills, honed as International Monetary Fund head and French finance minister, will carry her through.
"It's about striking a balance -- by being too political, you can also lose people," said Henning Voepel, director of the Hamburg Institute of International Economics. "I honestly liked the constant repetition in Draghi's press conferences, how he didn't stray from the message, his technical, clean, clinical style of speaking. It's a totally different approach."