Rise in Protectionism Deserves More Attention, Kuroda Says
(Bloomberg) -- In the face of growing protectionism, it is essential to continue international dialogue with renewed recognition of the importance of free trade, Bank of Japan Governor Haruhiko Kuroda said.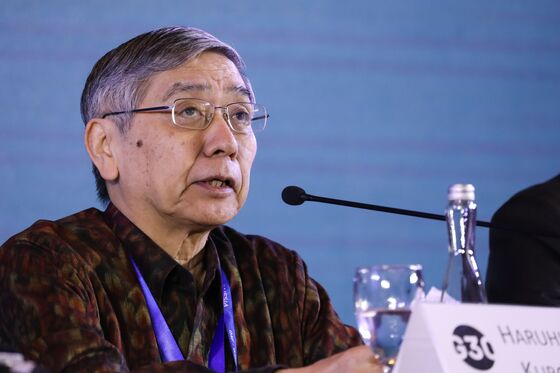 The global economy has continued to expand but if trade tensions are prolonged or intensify they could hurt the real economy and financial markets, not only through trade activities but also through deterioration in sentiment among businesses and households, Kuroda said at a Group of 30 event in Bali, Indonesia.
When he spoke at the same event a year earlier, the global economy was quite rosy and the biggest risk was complacency, Kuroda said. The rise in protectionism and tightening of financial conditions in some economies over the past year remind us of the importance of being vigilant at all times, he said.
As economies have become increasingly interdependent through global value chains, protectionist policies don't benefit any economy, he said.
On Japan's economy, Kuroda said second-quarter growth has been solid, with investment on the rise. The labor market is close to full employment but it is taking longer than expected to change people's mindset on raising prices and wages, with some companies choosing to invest instead in labor-saving technology, he said.
The flexibility added at the BOJ's July meeting, including forward guidance, strengthened the policy framework and the central bank will continue to aim at maintaining price momentum, Kuroda said.