Kudlow Says U.S. and China Are 'Pretty Close' to Deal on Tech Theft
(Bloomberg) -- White House economic adviser Larry Kudlow said the U.S. and China are "pretty close" to an agreement on stopping intellectual property theft.
The two countries are "pretty close on some agreements on IP theft, pretty close to some agreements on the forced transfer of technology from American companies," Kudlow, director of the White House National Economic Council, told reporters Monday in a briefing on trade talks. "When I say pretty close, they are kind of on the front burner, hot list that we've developed with them."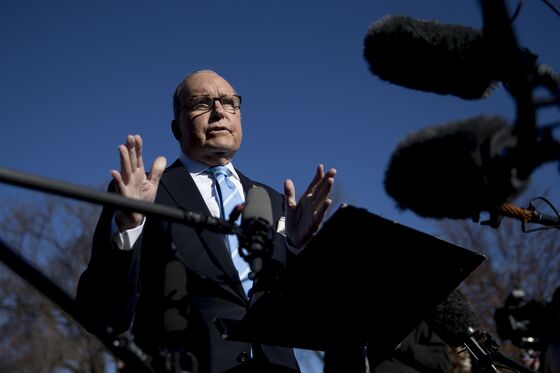 Kudlow didn't provide any details of what progress has been made. U.S. complaints about alleged Chinese theft of intellectual property and forced technology transfers from American companies seeking to do business in China are central issues in President Donald Trump's trade war with Beijing.
If Kudlow is right it would mean a major shift in the standoff between the U.S. and China. But other members of the administration have been far more skeptical of Chinese promises in the past and U.S. Trade Representative Robert Lighthizer in a report released last week accused China of brazenly continuing to attack American companies and steal IP even as it denied it was doing anything wrong.
Kudlow also said he expects China will bring tariffs on autos imported from the U.S. to "zero." China imposes a 15 percent tariff on imported vehicles and raised the levy on U.S. cars to 40 percent in retaliation for tariffs the Trump administration imposed on Chinese products.
Kudlow briefed reporters following talks at the Group of 20 summit over the weekend between Trump and Chinese President Xi Jinping. Auto tariffs will be discussed right away in follow-up talks, Kudlow said.
Kudlow didn't provide a specific timeline for when he anticipates China will remove tariffs on U.S. autos, but he said at the beginning of the briefing that Chinese Vice Premier Liu He had committed to quick action on trade barriers.
"He said several times, and I pushed him on this, that the China changes with respect to tariffs and non-tariff barriers and other structural issues that we'll get into in a few moments would begin immediately," Kudlow said. "I said, 'What do you mean immediately?' And he said 'immediately."'
Treasury Secretary Steven Mnuchin said earlier in the day China has agreed to reduce tariffs on imported automobiles but declined to give details. Trump jolted car stocks by announcing late Sunday on Twitter that a deal had been reached, without any specifics.
Trump said in the tweet that China would "reduce and remove" tariffs on American-made vehicles, raising more questions about the outcome of his meeting with Xi.