Krona's Plunge Shows How 2008 Crisis Is Only Just Hitting Sweden
A decade ago, Sweden did better than most as the global financial crisis ripped through markets everywhere. But its strength back then may actually be hurting it now.
The problem is that Sweden's labor market didn't make the same austerity-era adjustments during the crisis that were forced on others. As a result, labor costs may have stayed too high, in relative terms. A little over 10 years after the crisis, that imbalance is having devastating effects on Sweden's currency. This week, it plunged to its weakest level against the euro in a decade. It's doing even worse against the dollar.
"The krona is cheap, but not as cheap as you might think," said Richard Falkenhall, a currency strategist SEB AB in Stockholm. "Something has happened to the Swedish unit labor cost."
The development in Sweden's krona has wrong-footed many prognosticators. For the most part, they've pointed to the central bank's negative interest rates and bond purchases as the main culprits. But the reason may be more fundamental than that.
The big picture is that Sweden has lost part of its competitive edge. Its unit costs are now rising faster than those of its competitors. Measured as the cost of labor to output, Sweden tended in the past to track the euro area and the U.S. when it came to unit labor costs. But since since 2008, wages in the biggest Nordic economy have grown more rapidly than in countries such as Germany, where a deeper crisis put pressure on wages. As a result, Swedish productivity growth has been weak.
"We still have higher wage increases, but it's not being compensated for by a higher productivity growth anymore," Falkenhall said. "That's why the unit labor cost has gone up in the past decade."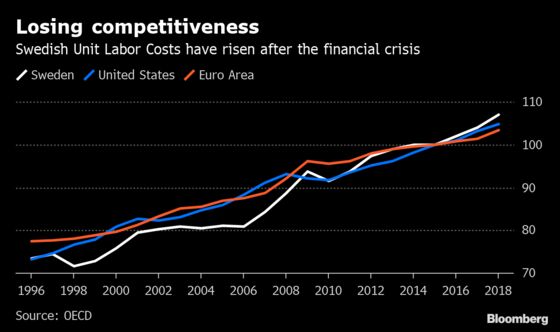 Things look a "bit less bad" when analyzing Sweden's manufacturing industry in isolation, Falkenhall says. But it would be wrong to expect the krona, which is currently trading at around 10.7 to the euro, to strengthen toward 9 again, even in the long term, he said.
The slump in the krona has been met with dismay from the country's importers, economists and investors, who argue that the depreciation is making Sweden poorer. The Riksbank has countered that there's little to be done via policy, arguing that the krona is just following global trends.
The center-left government, which has been criticized for amassing budget surpluses instead of spending more on the economy, says it's not to blame.
But tax increases pushed through over the past four years have added to labor costs. Some in Sweden's parliament have called for a productivity commission to find out what happened to the country's competitiveness.
Roger Josefsson, an economist at Macrobond, says the main problem is that "wages in Sweden have risen much more than in other countries."
"This is something people have a tendency to forget," he said. "Focus is on lost purchasing power, but that isn't really true since our wage increases have been much higher than in other countries.´´
Sweden's high labor costs also heighten the danger of global trade disputes, and news of faltering talks between the U.S. and China this week deepened the sell-off in the krona.
Martin Enlund, head of currency strategy at Nordea Bank AB, says low productivity is only part of the explanation. He says that looking at Swedish labor unit costs in euros, the krona has fallen about 5 percent too much.
Falkenhall at SEB says it's all a question of how well Sweden's labor market performs relative to its competitors.
"Competitiveness is relative," he said. "If other countries start doing things in a better way, we must either follow their example or live with a somewhat weaker currency."