Kim's Testy Factory Trips Show Push to Fix North Korea Economy
(Bloomberg) -- While touring a backpack factory in North Korea's remote northeast, Kim Jong Un dressed down ruling party officials for lacking "revolutionary spirit" -- and ordered workers to sew twice as much sponge in the shoulder straps to spare schoolchildren any discomfort.
Kim's visit to the Chongjin Bag Factory was among a flurry of industrial inspections reported by North Korean state media in recent days, in which he complained of his "great anxiety" caused by delays and poor workmanship. The reports appeared to illustrate Kim's impatience for upgrading his impoverished economy as he looks to ease tensions with China, South Korea and the U.S. after declaring complete his quest to build a nuclear arsenal.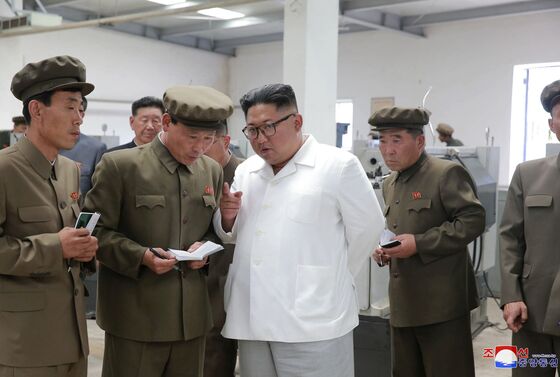 "This is the most aggressive we've seen Kim on these tours -- he's intensifying the visits and he's keen to micromanage the economy," said Shin-wha Lee, a political science and international relations professor at Korea University. "Kim's message to his domestic audience is that he's prioritizing the economy and growth. His message to Washington and Beijing is, 'If you guys lift sanctions, I can focus on the economy, instead of the military.'"
The tours are the latest sign of a priority shift as the 30-something leader looks to avoid war with the U.S., escape international sanctions and prolong his family's almost 70-year rule. By pledging to "work toward complete denuclearization" with President Donald Trump during their historic meeting in Singapore last month, Kim has bought time to address the regime's biggest domestic threat: a backward economy.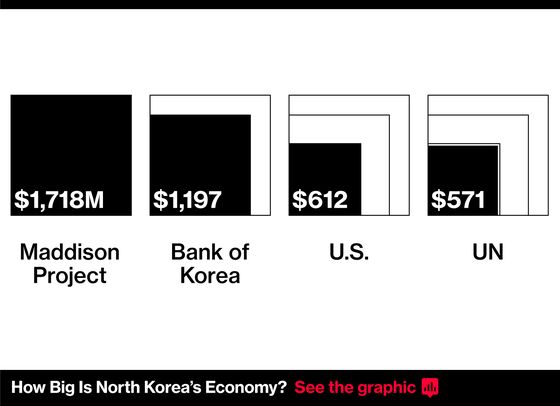 Decades of sanctions, famine and policy missteps have left Kim's 25 million citizens far worse off than their neighbors in South Korea, who collectively earn 46 times more than them. A gross domestic product estimate due to be released Friday by the Bank of Korea could show whether Trump's "maximum pressure" campaign last year squelched a nascent recovery seen in 2016.
Kim's April 20 declaration prioritizing only economic development -- as opposed to both growth and nuclear weapons -- helped set the stage for his subsequent summits with Trump and South Korean President Moon Jae-in. Trump has mused about building condos on North Korean beaches and presented Kim with a video extolling the virtues of greater U.S. economic ties.
While reports suggest that Kim continues to expand his nuclear weapons development, he has sought to play down the program. He announced a unilateral suspension of weapons tests and closed a site where the regime conducted all six of its atomic bomb detonations -- located in the same province as the backpack factory.
Coverage of Kim's tours by the state-run Korean Central News Agency portrays a leader attentive to even the smallest details. He noticed that plastering at a seaside hotel in Yombunjin was unfinished after six years, dismissed hot baths at a holiday camp as "dirty, gloomy and unsanitary," demanded greater automation at a machinery factory, and berated officials for failing to finish the Orangchon power station 17 years after construction began.
"This isn't just Kim being in a foul mood. It is further evidence of a shift in the policy balance, with the economy now getting greater attention than the nuclear program," said Mark Fitzpatrick, executive director at the International Institute for Strategic Studies in Washington. "The message to bureaucrats throughout the country seems to be: 'get with the program or get lost.'"
Kim has shown a flair for punishing subordinates since coming to power since 2011, including ordering the murder of his half-brother in Malaysia last year, according to South Korea. But the frequency and prominence of state-media coverage of Kim's recent inspection tours place more emphasis on results.
The reports were also further evidence that Kim, whose family has spent decades cultivating an image of near god-like infallibility, is more comfortable pointing out the country's shortcomings. That was similarly evident when state-run newspapers splashed photos of Kim's late-night tour around Singapore's gleaming skyscrapers before his meeting with Trump.
Byung-Yeon Kim, an economics professor at Seoul National University, said that Kim was taking a risk by raising expectations. "In the short-run, people support his leadership but in the long run they are likely to be disappointed if he is not able to deliver his promises for economic development," he said.
Still, Kim probably feels emboldened after a series of diplomatic coups that have left China, South Korea and even the U.S. competing for improved ties with the country.
"Kim's diplomatic gains have given him more confidence," said Lee, the Korea University professor. "Kim doesn't want to talk just about the nuclear issue, he also wants to talk about the economy."