Key Moments of the Week Trump's Trade War Turned Currency Feud
(Bloomberg) -- Terms of Trade is a daily newsletter that untangles a world embroiled in trade wars. Sign up here. 
It's Peter Navarro's economy now.
That's one way to view the resurgence of the hawkish White House trade adviser and the volley of events during the past week between Washington and Beijing. Relations between the world's two biggest economies sank to worrying depths and surging markets finally absorbed the reality that trade wars have real economic consequences.
As China matched President Donald Trump's higher tariffs and name-calling with painful moves of its own, the arguments from Navarro were heard over those of Treasury Secretary Steven Mnuchin and Larry Kudlow.
The result was another blast of Trump tariffs and an official U.S. declaration of China as a currency manipulator. China's response was a boycott of American farm products and a clear signal that its currency, the yuan, can help cushion the tariff blow. Trump's response to that response was a not-so-subtle softening of dollar policy, delivered by tweet.
So a deal that just a few months ago seemed to U.S. officials to be 90% complete has become tough to imagine any time soon.
Kudlow and other advisers "have tried unsuccessfully to get Trump to understand the consequences of this trade war but one adviser, Peter Navarro, I think has the president's ear," Greg Valliere, chief U.S. policy strategist with AGF Investments, said on Bloomberg Television. "As long as Navarro is still that potent, I think the trade war will persist.'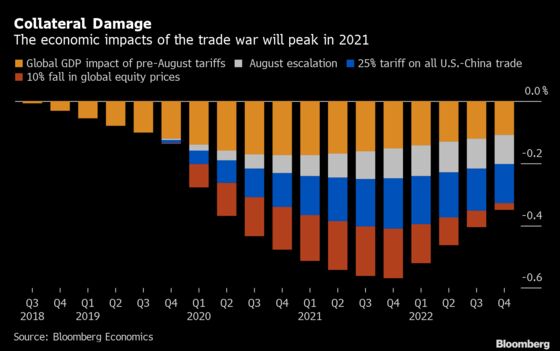 Here are the key developments of the past week (click on the links to read more):