Kazakhstan Looks to Stave Off Rate Hike With Other 'Maneuvers'
(Bloomberg) -- Kazakhstan's central bank has a range of options besides changing its key interest rate as it looks to fine-tune monetary policy after markets stabilized and inflation came in below expectations, according to Governor Daniyar Akishev.
With the benchmark held twice at 9 percent after four cuts and anticipation that a hike could be on the way, Akishev said "the central bank has more maneuvers than just moving the rate." Speaking in an interview just before a policy meeting on Monday, the governor specifically pointed to the rate corridor used to manage liquidity.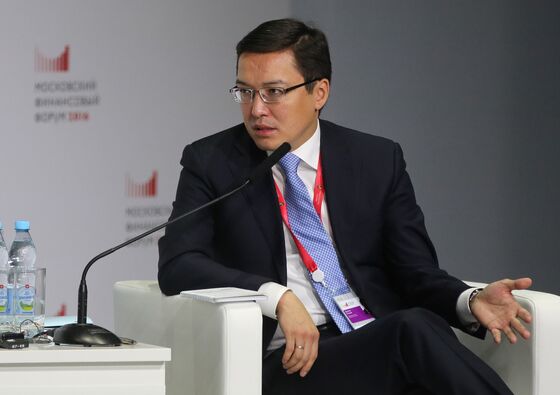 "Let me draw your attention to the fact that we have quite a wide corridor," currently set at plus or minus one percentage point, Akishev said on Friday in Bali, where he was attending the annual meetings of the International Monetary Fund and the World Bank. The overnight deposit and lending rates form a band around the benchmark.
By narrowing the gap, the central bank would effectively lift the cost at which it borrows money, mostly by way of selling short-term notes. Such a move could buy it more time before having to pull off Kazakhstan's first rate increase since 2016. Central banks across developing economies have already turned to monetary tightening after a sell-off in emerging-market assets triggered by higher U.S. rates and a stronger dollar.
In Russia, Kazakhstan's biggest trading partner, the central bank surprised last month by raising borrowing costs for the first time since 2014. Economists surveyed by Bloomberg are split over what the National Bank of Kazakhstan will do on Monday, with seven predicting its benchmark will stay unchanged and four predicting a hike.
But shifting slightly from the tougher rhetoric used after a meeting in September, when the central bank wouldn't rule out tighter policy this year, Akishev said a measure of calm has settled over financial markets after turmoil in August and September. The Kazakh currency is now "undervalued" and its volatility is presently not a concern, he said.
"If you look at the situation during the past two weeks, even some fluctuations or external events aren't leading to an increase in trade volumes," suggesting there's a lack of tension in the domestic currency market, Akishev said.
Just after the last rate decision, the central bank was also forced to spend $521 million in its first interventions in almost a year, as demand for dollars remained elevated after the threat of more sanctions against Russia pummeled the ruble. Kazakh policy makers also said monetary tightening could be needed to minimize risks from a weakening tenge.
In making decisions, the central bank will consider that inflation last month was "lower than we expected," Akishev said. Price growth accelerated to an annual 6.1 percent in September from 6 percent in August, remaining within the target of 5 percent to 7 percent.
Policy makers will also be guided by "positive" trends in the Kazakh current account and growth in oil prices, which the governor said will support the tenge closer to year-end. Imbalances, including those caused by the repatriation of dividends and profits, will also affect the central bank's approach, according to Akishev.
The higher cost of borrowing by the central bank is a positive for the country's shaky lenders, the main holders of its short-term notes. Kazakhstan spent about 6 percent of gross domestic product last year to stabilize its financial system with a mixture of capital injections and consolidation measures. The central bank still provides more than 200 billion tenge ($542 million) in loans to more than one commercial bank, Akishev said, declining to elaborate.
Despite a major bond-market reform in late July, when Kazakhstan opened a link with Clearstream Banking SA, one of the biggest bond-settlement systems, the country has struggled to lure foreign capital. The share of overseas investors in the central bank's notes "grew, but insignificantly for now," after their holdings reached 132 billion tenge at the end of August, according to Akishev.
"But I don't think appetite for risk among foreign investors has ended, it will return," he said.