JPMorgan Sees ECB and BOJ Adding to Pain for Emerging Bonds
(Bloomberg) -- For those hoping the worst is over in the emerging-market bond world, JPMorgan Asset Management has a message: The flight to haven assets may intensify.
The recent rally in developing-nation debt, triggered by speculation of a pause in Federal Reserve hikes, is likely to prove temporary, according to the firm's New-York based strategist Alexander Dryden. With Europe and Japan removing monetary stimulus next year amid already higher U.S. rates, retail investors may renew their move out of emerging-market bonds, he said.
"There is a rocky road ahead," Dryden said. "The outflows haven't been fully fleshed out. What we'll see is a continuation of recent trends, but intensified as Europe and Japan tighten monetary policy."
"Yield tourists" poured into developing countries for a decade in search of higher returns -- a trend that will take more than the few months of outflows seen this year to be reversed, Dryden said. Worst hit will be the commodity-dependent countries of Latin America, as well as Chinese debt as the world's second-largest economy slows down. Asian countries outside of China will prove more resilient, he added.
U.S. rates will rise another 75 basis points, while the European Central Bank will halt asset purchases in January and possibly start to raise rates later in 2019. The move will be enough to attract more investors out of emerging markets to the safer assets of the developed world, Dryden said.
"I don't have a problem with the hunt-for-yield strategy in the early days of an economic cycle or even in the middle," Dryden said. "But we are towards the end of the game - in the fourth quarter."
Developing countries are already struggling to retain investors, he said. The average spread of emerging-market sovereign bonds to U.S. Treasuries has risen to 405 points from about 280 basis points at the beginning of the year and can widen further, according to the money manager.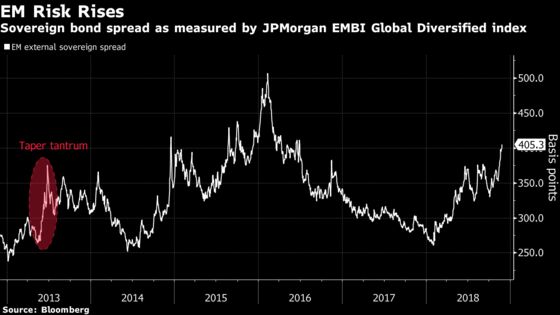 Pressure on emerging markets may peak at the end of next year as rates rise and economic growth begins to slow from the "sugar high" induced by President Donald Trump's tax cuts, Dryden said.
It's not a view shared by many analysts, who forecast more inflows into emerging markets next year on easing trade tensions and faster growth in China.
Dryden also recognizes that the U.S. might reach a trade accord with China and that Fed rates may not rise as far as some speculated next year, especially after Fed Chairman Jerome Powell said Wednesday that borrowing costs were "just below" a range of estimates of the so-called neutral level. Benchmark Treasury yields briefly fell below 3 percent following the comments.
Moreover, developing nations are generally in a much better shape now than five years ago, so the impact of any turmoil is likely to be smaller than during the taper-tantrum in 2013, Dryden said. Back then, spreads widened more than 100 basis points in one month.
"There is room for a spread widening," Dryden said. "But I don't see this as an EM crisis."