JPMorgan's Dimon Puts Odds of China-U.S. Trade Deal at 80%
(Bloomberg) -- JPMorgan Chase & Co. Chief Executive Officer Jamie Dimon put the odds of the U.S. and China reaching a trade deal at 80 percent, sounding a note of optimism even after the rising specter of tariffs roiled global markets.
Despite the recent increase in tensions between the sides triggered by tweets from U.S. President Donald Trump, the bank chief said in an interview with Bloomberg Television that it remains probable there will eventually be an agreement. He said, however, that global growth would be hit if the talks go "really south."
"Now we have this whole kind of little bump in the road," said Dimon. "Sometimes his tweets don't pan out to be as bad. I don't think they'll get the deal done by Friday."
Trump on Sunday threatened to raise tariffs on Chinese goods starting Friday, casting the outlook of trade talks in doubt and causing turmoil in global markets, which had been taking an increasingly bright view of the negotiations. The S&P 500 Index is down 2.1 percent this week, while the benchmark gauge in Shanghai has fallen 5 percent.
Amid the rising tensions, China's top trade negotiator, Vice Premier Liu He, will visit the U.S. for talks this week, though the government initially considered a delay. Liu is due to meet with U.S. Trade Representative Robert Lighthizer and Treasury Secretary Steven Mnuchin, on May 9 and 10, according to an official announcement.
Government data published Wednesday showed Chinese exports unexpectedly fell in April, and imports rose. Trump said on Sunday that he planned to raise tariffs on $200 billion of Chinese imports to 25 percent from 10 percent because talks were moving too slowly.
Dimon said Wednesday on the sidelines of JPMorgan's annual China summit in Beijing that while he still believes there'll be an agreement, the odds of "something bad happening" have doubled. He added that he'd rather see no deal than a bad deal.
"It may take a little bit more time, but I think we should do a proper trade deal," he said.
China has already opened many industries, Dimon said, something that's in the country's own interests. The U.S. bank recently received approval to take a majority stake in an onshore securities venture.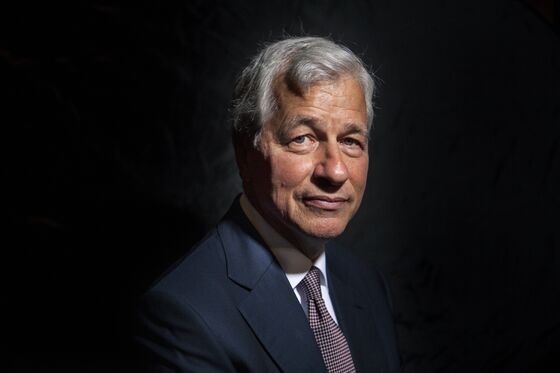 More of Dimon's comments:
"There's nothing wrong with wait-and-see."
"I think they should just stop forecasting. They don't really know the future."
"They have a huge amount of firing power, they are very smart people."
"It'll be a huge mistake for American policy to be set based on the stock market."
"The market will fluctuate, economy will fluctuate, people always get scared and overreact to certain events."
"That's not how we run a company, I don't really spend that much time worrying about that."
On payments competition from Ant Financial's Alipay, and Tencent Holdings Ltd.'s WeChat Pay: "We got to be prepared for that, so we've got to move quicker."
"China can do something that the rest of us can't do: They can manage industrial policy, fiscal policy, monetary policy in a coordinated way. Which is why we think they can accomplish 6.5 percent growth."
"They probably have some significant non-performing loan problems at banks but they can handle that."
"We don't think a hard Brexit is going to happen. JPMorgan is prepared for hard, because we have to be, not because we're predicting it."
"A hard Brexit will be really tough on Britain, and their GDP, employment, real estate values -- but a soft Brexit will be hard, too."
"They will not be the same center of financial services they are today 10 years from now even under a soft Brexit."