JPMorgan Flips to Favor EM Assets as Recession Risk Slides
(Bloomberg) -- JPMorgan Asset Management has turned bullish on emerging-market bonds and currencies as the threat of a global recession recedes.
The $1.7 trillion investment giant slashed its forecast for the probability of a recession to 25% from 40%, citing thawing U.S.-China trade tensions and this year's deluge of easy monetary policy across the globe, chief investment officer Bob Michele wrote in a quarterly outlook note. This has made emerging market debt its top choice, with government bonds from Russia, Mexico, Indonesia and Peru among its preferences.
"Our focus has shifted from defensive to more focused risk seeking," Michele said. "The combination of overwhelming central bank easing and the de-escalation in trade tensions has provided a powerful backdrop to the markets."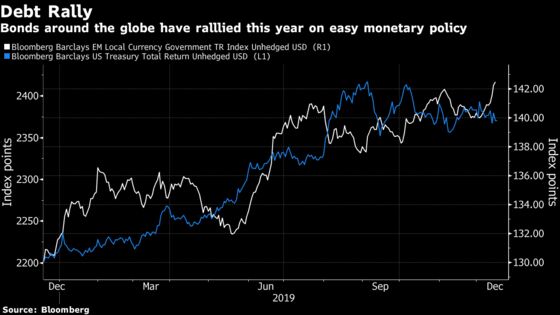 Emerging-market bonds have enjoyed a strong 2019, returning 8.3% to date, according to a Bloomberg Barclays index, as central banks from India to Mexico cut interest rates to bolster growth. That beats the 6.5% return in a global gauge of investment-grade debt.
JPMorgan joins a raft of market players bullish on developing-nation securities after the U.S. and China agreed a phase-one trade pact this month, fueling optimism global growth will pick up next year. Deutsche Bank AG and Schroders Plc both expect developing nation currencies to outperform in 2020, while Morgan Stanley and Citigroup Inc. are positive on emerging fixed-income assets.
Among other sectors, Michele favors securitized assets including structured credit and collateralized mortgage-backed securities. While market risks appear to be receding, JPMorgan still sees "sub-trend" growth next year as the global economy recovers.
"The biggest risk remains on the trade front," Michele said. "If China and the U.S. cannot agree to a status quo with modest de-escalation, and/or the U.S. looks at putting tariffs on Europe or Latin America, the global economy would invariably shift downward."
Here are some of Michele's other investment views:
Treasury 10-year yields are likely to remain anchored around 1.5% to 2%
Probability of sub-trend growth has risen to 55% from 40% previously
Significant global fiscal stimulus seems unlikely
While emerging-market rate cuts have limited trade war-induced damage, Europe and Japan's economies are still struggling
Any fiscal package in Japan will result in only a small boost to growth