JPMorgan Calls Turnaround on Turkey as More Borrowers Return
(Bloomberg) -- JPMorgan Chase & Co.'s top executive in Turkey said the momentum from the government's international debt sale will likely carry over into corporate borrowing after the country largely missed out on this year's boom for emerging-market Eurobond offerings.
"With this deal, international capital markets will open up for issuances from Turkey again," Mustafa Bagriacik, senior country officer for Turkey and Azerbaijan for the U.S. lender, said in an online interview. "We expect the interest in Turkey's debt market to come back next year as international investors see more stability in the economy."
Ever since the lira's crash over two years ago, the focus for Turkish companies has been on deleveraging -- or debt reduction -- as businesses stocked up on cash and looked to repay what was owed. Some Turkish firms are now struggling to repay foreign-currency debt, resulting in tens of billions of dollars in loan restructurings.
For market sentiment to shift in Turkey's favor, authorities would need to contain growing geopolitical risks and deliver on policies that could restrain double-digit inflation that's ratcheted up pressure on the lira. Unorthodox measures to soften the economic impact of the coronavirus outbreak have been a turnoff for international investors, sending the currency to record lows and prompting the biggest outflows from Turkey's debt and equity markets in more than a decade.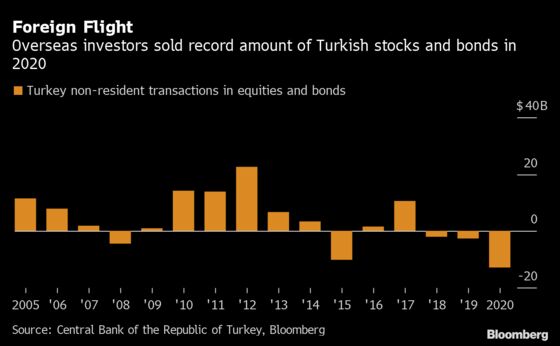 JPMorgan was among the joint bookrunners for the government's October sale of $2.5 billion in dollar-denominated bonds due in five years. Turkey has set a target of $9 billion for sovereign borrowing abroad this year. It raised $4 billion in February.
The government may need to borrow more both at home and abroad to finance its widening budget deficit after relying on spending to help the economy ride out the pandemic. Bagriacik, who's been in the job for six years after stints at Goldman Sachs Group Inc. and Deutsche Bank AG, says Turkey can count on greater access to international debt markets after starting to take a more investor-friendly approach.
The Treasury sold the bonds less than two weeks after the central bank unexpectedly hiked its benchmark interest rate and authorities unwound a slew of trading restrictions on the lira. Just over a year ago, JPMorgan itself was the subject of a probe for predicting a decline in the currency.
"Doing the right things on the monetary and fiscal policies will attract more investors," Bagriacik said. "As the country implements market-friendly policies in the right direction, I am hopeful that people will first invest in fixed-income assets and then move to equities locally."
Bagriacik isn't alone in growing more upbeat. Before outflows in the week through Oct. 8, foreigners were investing in Turkish stocks and bonds at the fastest pace in almost three years in the prior period.
Biscuit maker Ulker Biskuvi Sanayi AS may be the first Turkish corporate borrower to test the Eurobond market this year. On Monday, it hired banks including JPMorgan for a benchmark-sized offering of dollar bonds.
But in a sign of challenges still facing potential borrowers, Turkey's sovereign wealth fund said on Tuesday that it postponed its debut Eurobond, blaming market conditions. It had mandated banks for a dollar issue shortly after the Treasury's sale.
"In general, investors like Turkey corporate risk so I'd suspect more Eurobond issuances from Turkish corporates" going forward, Bagriacik said.
Turkey's two Eurobond deals this year -- both of them sovereign -- compare with as many as 18 in a normal year, he said. The yield on the government's latest five-year bond was around 34 basis points higher than on existing securities due March 2025, which were issued in February.
"Every new deal will make the market more confident," Bagriacik said. "Corporate issuances are more of a cost concern rather than a matter of accessibility. We have a strong pipeline for the upcoming period."