JPMorgan Asset Bets on Treasuries, Aussie Dollar to Cope With Virus Impact
JPMorgan Asset Management is taking a two-pronged approach to trading the impact of the deadly coronavirus, buying Treasuries for safety but also the Aussie and Singapore dollars which it thinks have dropped too far.
The money manager is snapping up U.S. five- to 10-year notes as a hedge against a slowdown in the Chinese economy and also against some of the currency risk it is taking, said Julio Callegari, a fixed-income money manager at the firm that oversees $1.7 trillion. JPMorgan Asset is also buying Chinese government bonds on expectations the central bank will introduce more monetary stimulus.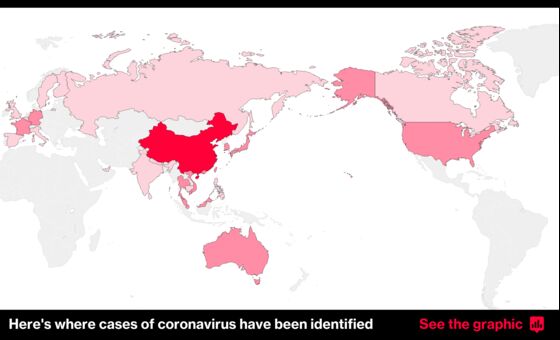 "The virus will have a significant impact, but concentrated in the first quarter," Callegari said of the effect on China's economy. "We've added a bit of U.S. Treasuries, the idea is to have some quality duration," while the Aussie has suffered a lot and could see some recovery, he said.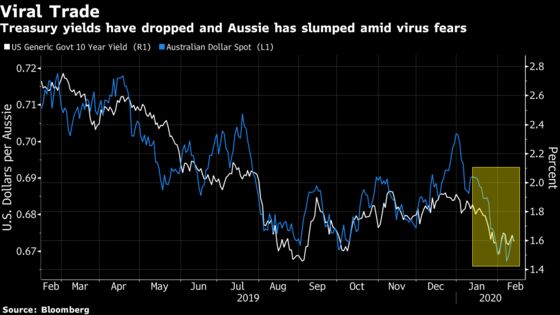 In turning bullish on Treasuries, JPMorgan Asset joins the likes of BNP Paribas SA and Saxo Capital Markets.
BNP said earlier this week that U.S. 10-year yields may test lows of below 1.40% last seen in 2016, while Saxo Capital sees a risk they will slide below 1%. Benchmark yields slid two basis points in early Friday trading to 1.60%, extending their decline from 1.92% at the end of December.
Read more: Fidelity buys Treasuries, Aussie bonds as virus impact deepens
While Treasuries are attractive as a haven, the market's knee-jerk response to the outbreak has also thrown up buying opportunities elsewhere, Callegari said.
The Aussie has tumbled more than 4% versus the U.S. dollar this year with investors selling on speculation the shuttering of Chinese factories will sap demand for Australia's commodity exports.
JPMorgan Asset expects the currency to bounce back, though given the prospect that the U.S. dollar will strengthen, it is choosing to buy the Aussie against Malaysia's ringgit.
The ringgit "should suffer more" than the Aussie if economic losses from the virus outbreak deepen, especially as the ringgit is closely correlated with the Chinese yuan, Callegari said.
The money manager also sees scope for Singapore's dollar to rebound after the currency was sold off this month when the central bank said there's room in its exchange-rate band to accommodate further weakness.
JPMorgan Asset is building its long Singapore-dollar position by buying it against the euro, he said.
The fund manager is also exploring going short on the Philippine peso by using it as a funding currency, though it has not yet had the opportunity to build up a position, Callegari said.
The peso will find it "hard to outperform from here," he said. "If you have an alternative where there's more value, then on a relative basis you could use the peso as a funder."
JPMorgan Asset is long Chinese government bonds maturing in five-to-10 years on expectations policy makers will introduce additional monetary stimulus to cushion the economy from the impact of the coronavirus.
It's not alone is seeing value here. The asset management units of UBS Group AG, Pictet Group and BNP Paribas SA have all been buying China's sovereign and policy bank bonds on bets the virus outbreak will take a toll on the slowing economy.
Chinese bonds can act as a portfolio hedge and provide "decent" yield pick-up to Treasuries, Callegari said.