Mexico Airport Vote Leads JPMorgan and Itau to Predict Rate Hike
(Bloomberg) -- Expectations for Mexico's monetary policy were turned upside down after president-elect Andres Manuel Lopez Obrador's decision to cancel construction of a new Mexico City airport sent the peso to its biggest decline in two years.
JPMorgan Chase & Co. and Itau Unibanco Holding SA now expect policy makers to lift borrowing costs by a quarter point at their next scheduled decision on Nov. 15 to contain fallout from the currency rout, after previously forecasting no change. JPMorgan says there's a significant possibility of a half-point increase or an additional quarter point hike in December.
"Were the peso to remain under pressure, we'd expect Banxico to acknowledge that upside inflation risks have materialized and convergence to target is at risk, and therefore that a policy response is required," JPMorgan economists including Gabriel Lozano wrote in a research report on Monday.
Interest-rate swap traders also see rate increases as likely, with the current implied probabilities showing 76 percent odds of a quarter-point increase to 8 percent in the overnight rate, with most expecting an additional quarter-point increase in December.
Banco de Mexico kept its key rate unchanged in its last decision on Oct. 4, saying it will take necessary actions to meet its price target while listing the peso's impact on cost of living increases as a top concern. Annual inflation has climbed for four straight months and surpassed 5 percent in September, well above policy makers' 3 percent goal.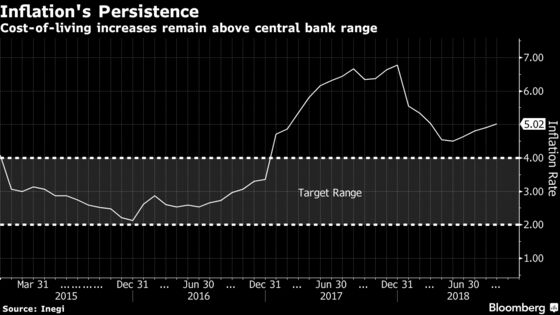 Deputy governor Manuel Ramos Francia voted for a quarter-point increase at the last meeting, arguing that persistence in core inflation, which excludes food and energy prices, makes it unlikely that the current forecast for headline inflation will be attained. Furthermore, failing to react could hurt the monetary authority's credibility, he said. The central bank forecasts inflation to slow toward 3 percent during the rest of this year and next, reaching that level in the first half of 2020.
Meanwhile, JPMorgan is expecting higher borrowing costs even as the airport cancellation likely hits Mexico's growth next year. The bank this week cut its growth forecast by 0.5 percentage point to 1.9 percent, which would be the lowest since 2013.
The airport cancellation "could start a vicious cycle -- smashing any incipient investor confidence, sending the peso plummeting, inflation rising, Banxico forced to hike and slowing an already slow economy that needs foreign portfolio flows," said Kathryn Rooney Vera, the head of global research at Bulltick Capital Markets in Miami.