Boris Johnson's Challenge: Narrow a 50% Productivity Gap With London
(Bloomberg) -- Terms of Trade is a daily newsletter that untangles a world threatened by trade wars. Sign up here. 
The challenge facing Boris Johnson to raise living standards in struggling regions that voted for his Conservative Party in December was laid bare in new figures highlighting the productivity gulf dividing Britain.
Productivity has grown much more quickly in London, southeast England and the West Midlands than in other parts of the country since 1994, according to data published by the Office for National Statistics on Friday.
An hour of work in London produced 46.33 pounds ($59.70) of nominal gross value added in 2018, making it the most productive region of the country, despite a more subdued performance since the financial crisis.
In the north, Yorkshire and the Humber on the other hand generated just 29.68 pounds, with real hourly output barely higher than it was 14 years ago. The average gap between the British capital and other regions was about 45%.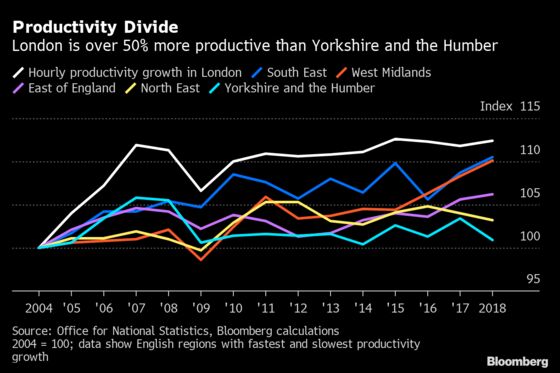 Johnson won the general election by picking up votes in former industrial heartlands in the north and midlands on a promise to "get Brexit done."
These areas are traditional strongholds of the opposition Labour Party, and Johnson now needs to address their sense of being economically marginalized to retain their support. Productivity growth is vital for lifting economic output and boosting pay packets.
The prime minister's first budget on March 11 is expected to include billions of pounds for infrastructure projects such as railways, roads and broadband networks to help deliver on his promise to "level up" poorer regions.
Productivity in 2018 was highest in London's Tower Hamlets, home to the Canary Wharf financial district and technology starts-ups, followed by Swindon and North Hampshire in southern England. It was lowest in Powys in rural Wales, North Northamptonshire in the East Midlands and Bradford in northern England.