Johnson's Brexit Threat Comes With Heavy Cost for Economy
Prime Minister Boris Johnson's threat to walk away from Brexit negotiations carries a heavy price tag for the economy.
Leaving the European Union without a free trade agreement in place would leave the nation's gross domestic product 3% smaller by 2030. That's equivalent to a loss of about 80 billion pounds ($100 billion) a year in today's prices compared with a comprehensive trade deal, according to Bloomberg Economics's Dan Hanson.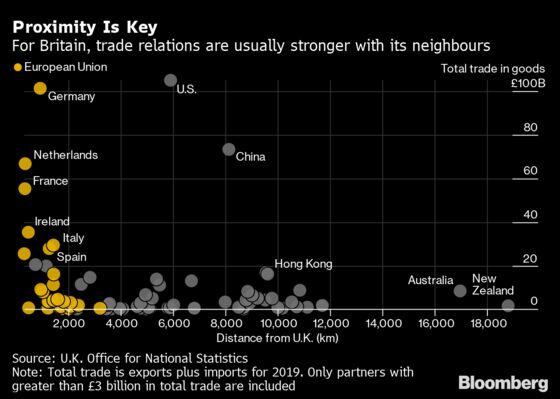 The calculations show the risk of the prime minister's hard-line approach to negotiations with Britain's biggest trading partner. The Institute for Fiscal Studies says as Australian-style deal is a euphemism for leaving without a deal, or trading with export levies on World Trade Organization terms.
An exit like that at the of this year would disrupt the U.K.'s already dismal productivity and leave the nation's trend growth at around 1.1%, Hanson said. That's below the 1.4% level expected under a free-trade agreement, and growth of 1.8% if the U.K. remained a member of the EU.
The British government laid out its negotiating mandate for the next stage of the Brexit negotiations on Thursday, telling the EU it's prepared to abandon them in June if it's not clear it's going to get a Canada-style trade agreement. Such a deal would remove 98% of tariffs on goods but wouldn't require the U.K. to apply the bloc's rules or allow freedom of movement.
By contrast, failing to get a deal would leave them doing business on WTO terms in most areas, with higher tariffs and an agreement on the processes to reduce some regulatory barriers.
There's also a political price. A bare-bones deal would hit hardest in the northern manufacturing regions that voted for Johnson in the December election that gave him a commanding majority in Parliament, according to the IFS.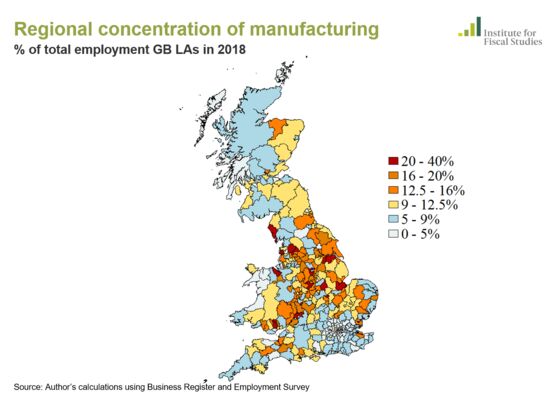 While the U.K.'s position is in many areas close to what the EU published on Tuesday, there are a number of stark differences around how closely it will have to stick to the bloc's rules.
The outcome of talks will have implications for the Bank of England. Officials are already forecasting anemic growth of 0.8% in 2020, under the assumption that a free-trade deal is in place for the start of next year, and a further deterioration to the outlook could increase the need for additional monetary stimulus.
The prospect of a swift withdrawal from talks may also increase uncertainty for business, threatening to bring an end to a nascent recovery in confidence since Johnson's election win December.