Boris Johnson Gets Early Vote of Economic Confidence From U.K. Data
U.K. Prime Minister Boris Johnson sailed through his new government's first major economic health check as he prepares to lead the nation through a potentially bumpy Brexit transition.
A raft of indicators this week from inflation to retail sales confirmed signs of a "Boris Bounce" -- a pickup in growth following the Conservatives' decisive election win. Public finance figures also showed the Treasury set to undershoot borrowing forecasts, welcome news for a government prepared to unveil the biggest fiscal stimulus since the global financial crisis.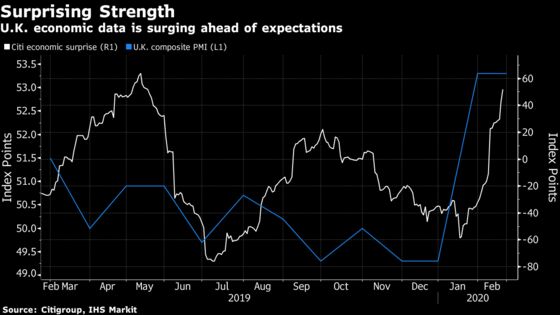 In the end, the bounce exceeded expectations, pushing Citigroup's measure of the strength of economic data relative to forecasts to the highest since early 2019. The latest numbers boosted sentiment in markets, with the pound rising 0.4% on Friday.
Johnson is trying to make a success of the U.K.'s exit from the European Union starting with an expansionary budget next month. That's expected to see billions of pounds pledged for extra infrastructure spending in the regions that propelled him to a landslide parliamentary majority.
Investors in U.K. bonds appear unperturbed about the thought of a spending spree. Gilts have rallied, driving yields lower.
The pickup in activity also vindicates of the Bank of England's decision to refrain from cutting interest rates last month.
What Our Economists Say:

"Amid widespread expectations of an expansionary budget on March 11, we continue to forecast the Bank of England will leave interest rates alone this year."

-- Dan Hanson. For the full U.K. REACT, click here
On Friday, data showed the economy continued a run of better-than-expected growth in February. That followed previous reports showing retail sales surged in January, inflation picked up and employment stayed strong in the fourth quarter.
Chancellor of the Exchequer Rishi Sunak, who only took over the position last week after the surprise resignation of his predecessor, also received a boost before his March 11 budget. Budget numbers showed the deficit is rising more slowly than the Office for Budget Responsibility predicted.
To be sure, the improvement came despite a disappointing January, when last-minute income tax payments typically generate a rare budget surplus.
Johnson must still lead Britain through challenging talks with the EU to reach a trade agreement by the end of the year, a time-frame that many consider to be unrealistic. The economy also faces a potential threat from coronavirus outbreak.
"There are questions surrounding how long this renewed optimism can last," said James Smith, an economist at ING in London. "While we are likely to see an increase in growth during the first quarter, the ongoing uncertainty surrounding the U.K.-EU trade talks will continue to inhibit investment."