Japan's Economic Activity Drop Sounds Alarm on Global Growth
(Bloomberg) -- Activity in Japan's economy shrank sharply in March, adding to domestic and global recession fears as the impact of the coronavirus slams supply chains, shutters factories and keeps shoppers and tourists at home.
A gauge of Japan's service sector activity slid sharply to a record low of 32.7, according to preliminary purchasing managers data. The au Jibun Bank Japan purchasing managers index for manufacturing also fell to 44.8 in March, indicating the strongest contraction in the factory sector since April 2009. PMI readings below 50 signal activity is contracting.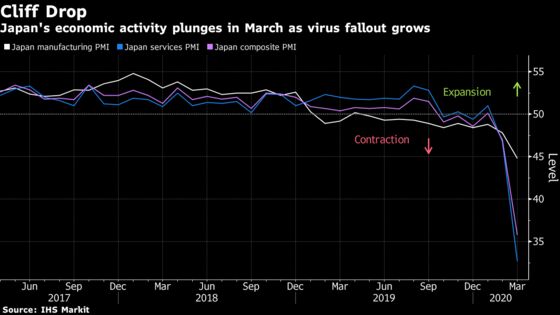 The latest grim readout for an economy that already shrank an annualized 7.1% in the last quarter, will fuel fears that an expected recession could be deeper than first thought as manufacturers and the service industry reel under the impact of the virus. The reading also sends out a signal of what likely awaits for other major global economies now in lock-down.
"Latest PMI data show that the Japanese economy slipped into an aggressive downturn in March that was primarily led by the service sector," said economist Joe Hayes at IHS Markit, which compiles the survey. "Plummeting tourism, event cancellations and supply-chain disruptions led to the fastest drop in private sector output since the Tsunami in 2011."
The virus outbreak has prompted emergency action from some of Japan Inc.'s biggest names. Toyota Motor Corp. has halted production at five of its factories in Japan, ANA airlines has put a third of its staff on temporary leave and Oriental Land Co. has closed the gates at Tokyo Disneyland until at least early April.
"As the world tries to contain this virus, economic activities are under pressure and I think we will see a further decline not only in supply chains, but also in consumer demand," said Harumi Taguchi, a Tokyo-based principal economist at IHS Markit.
Analysts already see Japan in recession as the pandemic paralyzes export markets, scales back production and suppresses consumer spending. The question now is how long and how deep the slump will be. Prime Minister Shinzo Abe is gearing up for a second set of major stimulus measures to counter the fallout just a matter of months after his last big package of economic support.
"We are not at a stage yet where the government can boost consumption. It first has to contain the virus," Taguchi said, adding that a V-shaped recovery was hard to expect as the pandemic spread across the globe.
Japan still has relatively fewer confirmed cases of the virus than most other places, but schools are closed, workers are being encouraged to work from home and shoppers are keeping away from stores.
The bigger economic threat for Japan so far is the pandemic's impact on its trading partners. Last month's sharp plunge in imports from China, by almost half, underscores the disruption to Japanese supply chains, while lock-downs in Europe and the U.S. suggest a grim outlook for exports.