Japanese Factory Output Drops Again Even as Emergency Ends
(Bloomberg) -- Japan's industrial production fell again in May and unemployment rose even as a nationwide state of emergency was lifted, showing the severity of the pandemic's impact on the export-reliant manufacturing sector and the wider economy.
Factory output fell 8.4% from April as automakers cut back production further, the economy ministry reported Tuesday. Overall output slid from the prior month for a fourth straight month for the first time since 2012. The result was worse than any of the forecasts from 28 analysts, whose median projection was for a 5.9% decline.
A separate report showed the unemployment rate rose to the highest level in three years. Analysts said they expect the rate to climb higher in coming months.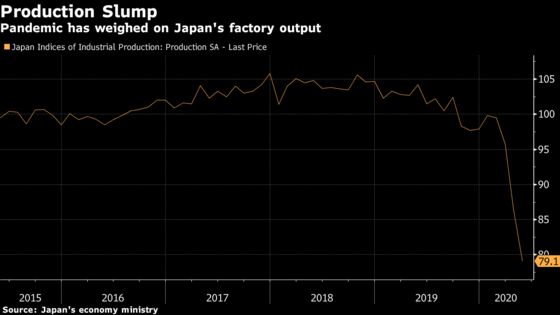 Declining production in May suggests that even after the lifting of restrictions for most of the nation by the middle of the month, weak global demand means there's less work to do for manufacturers. Recent rises in infection rates in the U.S., Japan's biggest overseas market last year, makes a speedy recovery unlikely.
Still, Tuesday's raft of data contained some signs the economy may have bottomed: the production report showed manufacturers plan to ramp up output by 5.7% this month and 9.2% in July; and labor statistics showed there were about 1.7 million fewer people on employment leave, which means some may have returned to work.
Economist Yoshiki Shinke at Dai-Ichi Life Research Institute said the production data signaled a third quarter rebound in economic growth, but a return to pre-virus levels would take a long time. "Japan's economy has probably passed the bottom and an initial pickup could be faster than expected, but there is a long road ahead to get back to normal," he said.
On the job front, Japan's 2.9% unemployment rate is still much lower than elsewhere, but the headline figure doesn't take into account the millions of workers forced to take leave during the pandemic. Many of those people, especially in the services sector, could become permanently unemployed if the crisis drags on.
What Bloomberg's Economist Says
"The forecasts for June and July output were strikingly optimistic, with companies planning to ramp up production. This suggests May was the trough, but given the renewed outbreaks of Covid-19 overseas, we're taking the upbeat projections with a large grain of salt."

--Yuki Masujima, economist

Click here to read more.
Vehicle-related production fell by more than a fifth from April taking year-on-year declines to 61%.
A report from the labor ministry showed the jobs-to-applicant ratio deteriorated from 1.32 in April to 1.2 in May, meaning there were 120 job offers for every 100 applicants, the lowest number since July 2015.