Japan to Narrowly Avoid Double-Dip Recession, Survey Shows
Japan's economy is likely to eke out growth this quarter and narrowly avoid a double-dip recession even though the country's battle to stamp out the coronavirus is dragging on.
Gross domestic product is seen expanding an annualized 0.6% in the three months through June, according to a Bloomberg survey of economists published Wednesday. The pace is less than half that projected last month, but the result suggests the recovery has started to get back on track.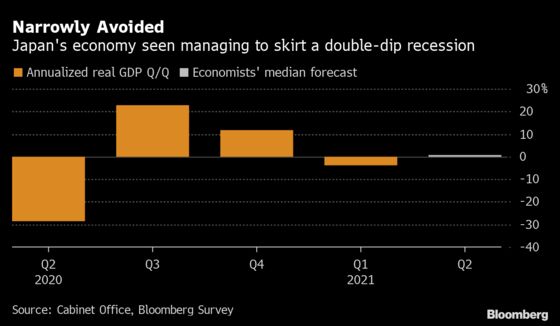 That's good news for the world's third-largest economy, which is still struggling under a third declaration of emergency to contain the virus that's only set to end June 20. Avoiding a double-dip recession could also help Prime Minister Yoshihide Suga, who faces elections that must be called by early fall.
Still, the survey showed economists now see private consumption continuing to drop this quarter, while gains in business investment are expected to be somewhat smaller than seen a month ago.
Looking further ahead, the economy is likely to benefit from a vaccine drive that's sped up recently. Economist Harumi Taguchi at IHS Markit says she expects vaccinations to start helping the economy by the middle of the third quarter, by which time she estimates 40% of the population will have gotten at least one shot.