Japan's Pre-Emergency Growth Could Point to Economic Resilience
(Bloomberg) -- Japan's economy is estimated to have finished the pandemic year of 2020 with growth reaching double digits, a show of resilience that suggests the country could emerge from a damaging state of emergency this quarter on a less-shaky footing.
The world's third largest economy likely expanded at a 10.1% annualized pace in the three months through December, according to surveyed economists. That would fill most of the gaping hole of output lost last year during the pandemic. The Cabinet Office releases gross domestic product figures Monday.
Only eight weeks ago, economists saw fourth quarter growth at less than half the pace they now estimate. That was before figures showed the first year-on-year gain in exports since 2018 and a smaller-than-expected hit to consumer spending in December amid rising virus cases.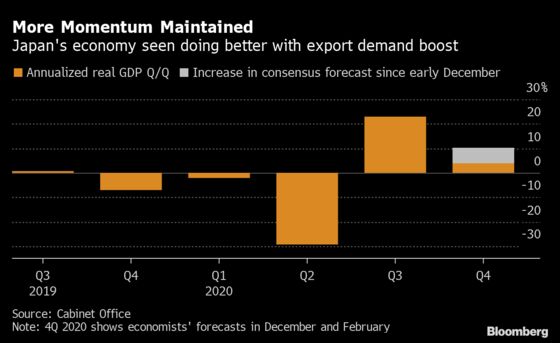 While the current emergency guidelines affecting almost 60% of the economy are likely to trigger another contraction this quarter, a stronger showing in the three months to December suggests that when growth eventually returns, the recovery could be sturdier than first envisaged.
"The first quarter is likely to dip quite a bit, but it'll be partly due to a man-made suppression of economic activity, which means there'll be pent up demand," said economist Yuichi Kodama at Meiji Yasuda Research Institute. "If the state of emergency is lifted in March, second quarter growth should be quite high."
The more bullish view on growth last quarter stems from a domestic travel campaign that propped up the service sector and a recovery in exports aided by stronger demand from China. Some 80 to 90% of Japan's fourth quarter expansion was likely due to exports, which should stay solid amid China's ongoing recovery, Kodama said.
Continued growth in exports this quarter will be needed to help buffer the loss of spending by consumers stuck at home with bars and restaurants shut after 8 p.m.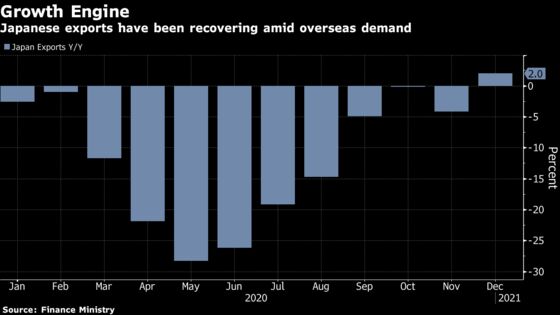 To see if resilience in the economy goes beyond the export sector, analysts will scour the fourth quarter data to see how well consumer spending held up despite the fears over accelerating Covid cases at the end of the year.
A better-than-expected result for private consumption combined with improved capital spending by businesses could be a sign that Japan has more underlying strength than previously thought.
Any bets on a consumer revival powering the recovery could be misplaced, according to economist Harumi Taguchi at IHS Markit.
"The pandemic has brought down income levels across many sectors so I don't think consumption will come back strong anytime soon," she said. "I'm expecting slow growth from here."
The economy is taking another bruising this quarter as the emergency puts further pressure on businesses and households. The recovery won't start until the activity guidelines are phased out.
Also complicating the outlook is Japan's slowness, compared with other nations, to secure and distribute vaccines. Shots are supposed to start in mid-February with frontline health workers then the elderly first in line. That means it could be months before the wider population gets vaccinated.
Still, there are other signs of resilience in the economy. Government spending, Bank of Japan loan support and a corporate and employee culture that has traditionally put job security ahead of high wages have helped keep unemployment at just 2.9%. Bankruptcies have fallen by at least 20% from a year earlier in recent months.
That suggests Japan is avoiding some of the deeper economic scarring hitting other countries where failed businesses and lost jobs are leaving economies less prepared to bounce back.