Japan Is Asia's M&A King While China Gets the Pushback
(Bloomberg Opinion) -- Is it just China that faces roadblocks from the West when acquiring overseas assets, or are other foreign buyers equal targets?
That's a $140 billion question. For the first time in three years, Japanese companies have pulled ahead of their mainland rivals, offering nearly double the $80 billion Chinese firms have shelled out for deals abroad so far this year. That makes Japan, not China, Asia's M&A king.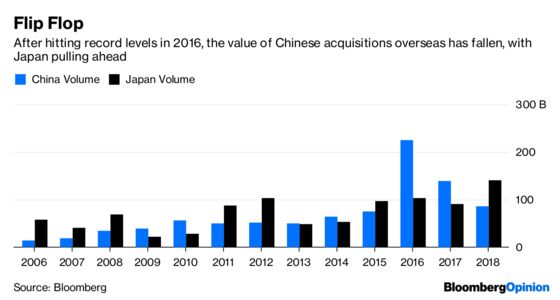 In recent months, a frenzy to protect prized innovation in the U.S. and Europe has scuttled billions of dollars' worth of Chinese deals. The Committee on Foreign Investment in the U.S. has hardened its stance toward foreign buying, no matter how small or passive, for companies that work in critical technology, infrastructure and the catch-all net of personal data — all with an eye to protecting U.S. national-security interests.
Japan, meanwhile, has two big deals in the offing, but so far there's been little talk of regulatory pushback.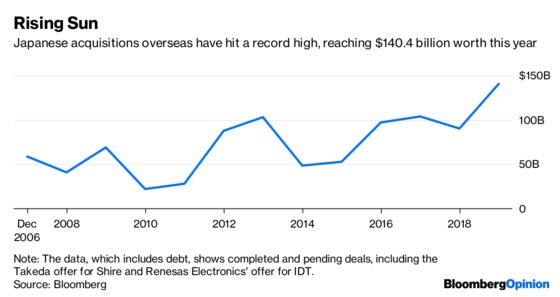 On the potential watchlist would be Takeda Pharmaceutical Co.'s record-breaking $62 billion bid for London-listed Shire Plc and Renesas Electronics Corp.'s $6.7 billion offer for California-based Integrated Device Technology Inc. With Shire, Takeda gets access to a strong pipeline of rare-disease drugs and diversification from its shrinking domestic market; IDT's know-how in analog semiconductors could help auto-chip specialist Renesas develop expertise in driverless cars.
Just last year, China's companies dominated overseas dealmaking: from China National Chemical Corp.'s $43 billion takeover of Swiss agribusiness giant Syngenta AG to China Investment Corp.'s 12.25 billion euro ($13.8 billion) purchase of Logicor, Blackstone Group LP's European logistics business. That was the region's largest-ever real-estate deal.
​Even before CFIUS's most recent update, regulators were sniffing out any lead China could gain in technology — so much so that in March, President Donald Trump blocked Broadcom Ltd.'s bid for Qualcomm Inc., fearing a combined tech giant would indirectly grant Shenzhen-based Huawei Technologies Co., one of the world's biggest telecommunications-equipment makers, an upper hand in the race to 5G.
Now, almost anything is fair game: Last year, CFIUS nearly blocked the sale of Biotest AG, a German blood-plasma supplier, to Chinese investor Creat Group Corp., on the grounds that the personal data of donors and receivers could be at risk. The U.S. regulator only approved the deal when Biotest sold its U.S. assets.
Germany and the U.K. also have been putting up barriers on national-security grounds. Last month, Chancellor Angela Merkel's government voted to block a Chinese investor's acquisition of a German machine-tool manufacturer, Leifeld Metal Spinning AG.
Add to that Beijing's own limits on capital outflows, and it's no wonder Chinese acquirers are shying away from big deals overseas. The exception is state-owned acquirers like Three Gorges Corp., which has offered 9.1 billion euros for EDP-Energias de Portugal SA, China's biggest deal this year. (Like Biotest, that merger is bound to trigger U.S. concerns because EDP has assets there.) As a result, Chinese M&A action has been focused on Southeast Asia's tech startups, uncontroversial tennis-racket makers or domestic targets.
So Renesas's purchase of IDT, which the company hopes to close in the first half of 2019, should be watched carefully. In a conference call with investors, executives dismissed concerns that Washington would block the deal, saying that national-security threats would be "almost nonexistent." Just a small portion of the California company's business is linked with the U.S. military, and those contracts have end-of-life goals, or a clear timeline toward obsolescence. That said, under CFIUS's broadened powers, all chips are sensitive and could contain data.
Meanwhile, Beijing shouldn't have any issues with Renesas's exposure to China's domestic market, since only about 10 percent of IDT's sales are there. (China's power can't be understated: Its failure to approve Qualcomm's offer for NXP Semiconductors NV led the American firm to withdraw its $44 billion bid.)
Now take the biggest-ever acquisition by Japan and the so-far quiet regulatory response. Takeda's bid for Shire in May has already gotten the green light from the U.S. and Canada (and Brazil). The Japanese company, which expects the deal to close in the first half of 2019, is unlikely to face CFIUS rejection, even though 65 percent of the Irish-domiciled drugmaker's revenue is in the U.S.
Japan and the EU still have to weigh in. But beyond asking for some divestments, the EU is unlikely to see this deal as killing competition in its 28-member bloc, since Takeda and Shire's drugs don't overlap. Would a China acquirer have passed muster so quickly?
To be sure, Japan's buyers — Takeda's purchase of Shire aside — are unlike the Chinese in that they're famous for using cash rather than debt to fund deals. Many of China's big buyers in recent years are now reversing those debt-laden deals, from HNA Group Co. to Sanpower Group, which is struggling to offload British department store chain House of Fraser. Western governments also can argue that Japan is more open to foreign acquisitions on its home turf than China is.
Time will tell, but with Chinese buyers on the back foot and regulators looking the other way, it's a good time for the Japanese to go out and buy.
This column does not necessarily reflect the opinion of the editorial board or Bloomberg LP and its owners.
Nisha Gopalan is a Bloomberg Opinion columnist covering deals and banking. She previously worked for the Wall Street Journal and Dow Jones as an editor and a reporter.