Japan Exports Drop Amid Lunar Holidays, Cold U.S. Weather
Japanese exports fell in February for the first time in three months, dropping more than economists expected, as the timing of Lunar New Year holidays cut business days in China while the coronavirus and extreme weather weighed on other key markets.
The value of overseas shipments slid 4.5% from a year ago, the finance ministry reported Wednesday. Exports to the U.S. and Europe declined at a faster pace than in January, while gains to China slowed sharply.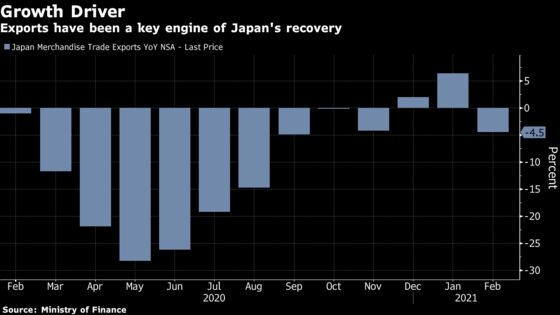 Due to reduced business days in Asia during the holidays, weaker shipments may not indicate as big a slowdown as the figures suggest, but trade still didn't hold up as well as economists expected. Analysts predicted a much smaller 0.2% drop.
Exports are especially key for the recovery now because declining consumer spending is seen pushing Japan's economy back into contraction this quarter amid a renewed declaration of emergency that has lasted for more than two months in the Tokyo region.
Economist Hiroaki Muto at Sumitomo Life Insurance Co. said Japan's exports were probably a little stronger than they look, with February's weaker results likely the result of temporary factors including extreme-cold weather in the U.S. and tighter lending conditions in China, in addition to the holidays.
"Cold weather doesn't last forever and China won't put on the brakes too far," Muto said, adding that the stimulus package recently adopted in the U.S. will start to support the global economy soon, with world growth accelerating next quarter.
For Japan, reports on machinery orders and factory production suggest the recovery could return to a solid footing once the emergency ends, which is likely to happen this weekend, according to local media.
Although the Lunar New Year holiday weighed on business across Asia in February, demand from China has been providing key support to Japan's exports and overall recovery for months. A recent drop in the yen against the dollar is adding another tailwind for Japanese makers of cars and electronics, boosting the value of repatriated income and making their products more competitive.
What Bloomberg Economics Says...

"Japan's merchandise trade was distorted by shifts in demand around the Lunar New Year holidays in China and other economies in February (versus in January last year). Smoothing out the bumps over the first two months of 2021, export growth probably slowed from its December pace."

--Yuki Masujima, economist

To read full report, click here.
Imports gained 11.8% last month from the previous year, compared with a 12% rise forecast by analysts.
Exports to China increased 3.4% from a year earlier. The gain slowed dramatically from January's 37.5% increase, a figure that was also affected by the shifting dates of the lunar holiday.
Shipments to the U.S. fell 14%, weighed down by declining auto sales that were at least partly due to bad weather, a finance ministry official said.
The trade balance was 217.4 billion yen (about $2 billion) in the black. Analysts had expected a 420 billion yen surplus.