Japan Avoids Recession as Shoppers Shrug Off Virus Emergency
Japan skirted a recession last quarter as a rebound in consumer spending defied virus restrictions, with the increased activity also fueling the spread of Covid-19.
Renewed investment by businesses and increased government spending also helped gross domestic product expand an annualized 1.3% from the prior quarter in the three months through June. Private consumption rose 0.8% from the prior quarter on a non-annualized basis, compared with economists expectations it would be flat.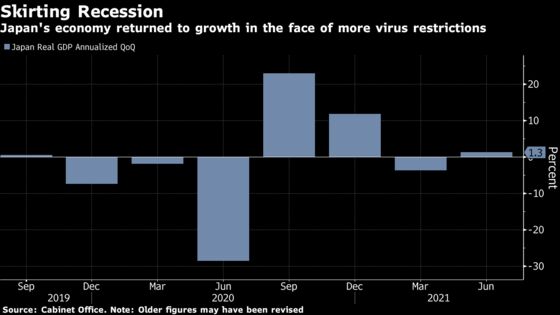 While the resumption of growth offers support for Prime Minister Yoshihide Suga's approach of limiting the economic damage of the pandemic through light restrictions on activity, voters aren't crediting the premier. With his poll ratings at record lows and virus cases surging, analysts see Suga unveiling yet another stimulus package ahead of elections due in the next few months.
The consumer activity that helped Japan avoid a double-dip slump has also helped fuel its worst wave of the virus yet. The upsurge in infections sparked a fourth declaration of emergency that formed a grim backdrop to a mostly spectator-less Tokyo Olympics and is likely to extend past August.
A late starting vaccination program has left Japan reliant on stop-and-start restrictions to try to quell the virus that appear to be losing effectiveness the longer they drag on. Economists said growth this quarter depends on how shoppers digest the latest infection numbers and whether they choose to keep shrugging off government warnings.
"I'm not sure if I should be happy about the GDP result or not, becuase the fact that consumption didn't fall means more people were out on the street, which is why the virus spread wasn't contained," said economist Mari Iwashita at Daiwa Securities Co.
Rebounding business investment suggests Japan Inc. is also looking past the pandemic, although worsening waves of the Delta variant in overseas markets, including the U.S. and China, present a risk to profits if it slows exports.
What Bloomberg's Economist Says...
"With Covid-19 cases surging, growth will remain under pressure. That -- and political considerations ahead of an election likely this autumn -- probably mean Prime Minister Yoshihide Suga will need to start laying the groundwork for additional fiscal stimulus."

--Yuki Masujima, economist

For the full report, click here.
Virus-response czar and Economy Minister Yasutoshi Nishimura said he sees Japan emerging from its pandemic endurance test as vaccines get to more people in coming months. So far, the vast majority of Japanese seniors have gotten their shots, but the rate is only 37% for the whole population.
"We continue to expect the economy to return to pre-covid levels by the end of the year," Nishimura told reporters, adding that he expects Japan to reach vaccination rates similar to the U.S. and the Europe by the end of this month.
Meanwhile, with people paying less heed to calls for caution even amid the spread of the more contagious Delta variant, Tokyo Governor Yuriko Koike warned Friday the situation in the capital was at disaster level as cases jumped to a record of 5,773, more than quadrupling in just three weeks. Regional governors have asked the central government to consider clamping down harder, a move that could push back the timetable for Japan's recovery.
Those calls have so far been rejected by Suga.

Damaged by the perception he's failed to break Japan out of its pandemic doldrums, Suga's approval ratings have tumbled, despite the fact that far fewer people are dying in Japan due to Covid-19 than in the U.S. or Europe. The nation on Sunday recorded 10 more deaths from the virus, taking the total to 15,423. In the U.S., more than 620,000 have died.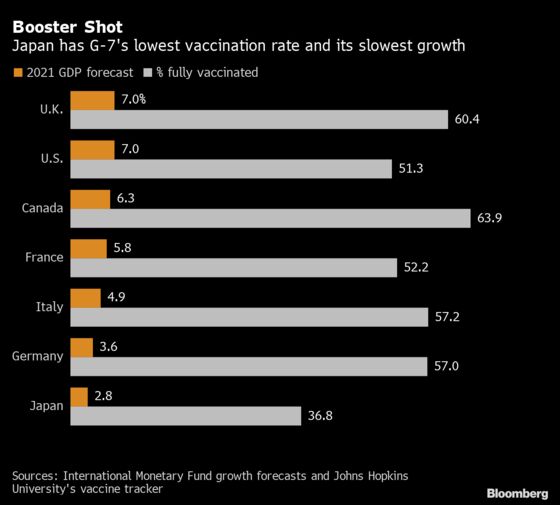 Still, a vaccine drive that didn't kick into high gear until June has left Japan with the lowest inoculation rate among the Group of Seven nations and, according to recent projections from the International Monetary Fund, the group's worst growth outlook for 2021.
Economist Atsushi Takeda said the key now is whether shoppers stay out in force or choose to hunker down as long as the virus numbers surge.
"Consumption did recover through June, and I expect that continued into July, but it's probably declining a bit now and that's likely to continue into September," he said. "The picture for the third quarter really depends on how much of a decline we'll see and it's really difficult to predict."