Japan GDP Tops Forecasts in 4Q as Focus Turns to Dimmer Outlook
(Bloomberg) -- Japan's economy expanded more than first estimated in the fourth quarter, driven partly by stronger business investment. Yet more recent gauges of factory output and exports point to a gloomier outlook for this year.
Gross domestic product grew at an annualized pace of 1.9 percent in the three months through December, revised Cabinet Office data showed Friday. That compared with an initial reading of 1.4 percent and a 1.7 percent estimate by economists. The rebound was still smaller in scale than the previous quarter's disaster-hit 2.4 percent contraction.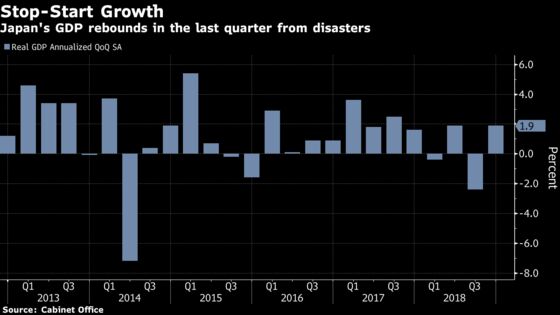 Japan's economy needed all the momentum it could get heading into 2019 given that early data for the current quarter suggest growth will be hit hard by the slowdown in China, the U.S.-China trade war and a softening tech cycle.
The recent pattern of expansion and contraction in the economy is not the stable growth path Prime Minister Shinzo Abe would like to see in the run-up to a demand-sapping sales-tax hike later this year.
An upward revision in GDP growth had been expected by economists given stronger-than-expected capital expenditure figures for the quarter released last week. But those figures also showed very little quarterly growth in business spending outside the manufacturing sector. Inventories also dragged much less on growth.
The figures didn't prompt a rethink among economists who are increasingly concerned about the current quarter and the possibility of the economy contracting or even worse, slipping into a recession ahead.
What Bloomberg's Economists Say

Part of the upward revision was due to a change in estimated inventories, while private consumption rose less than first estimated. "Taken together-- and in the context of weakening global growth and the lingering threat of U.S. protectionism to Japan's auto industry -- it's hard to be too upbeat on these data."

--Yuki Masujima, economist
Click here the view the piece.
Business investment rose 2.7 percent from the previous quarter, matching economists' forecasts.
Private consumption was weaker than first estimated, climbing 0.4 percent from the previous quarter. The median estimate was for 0.6 percent.
Separate data showed unexpected resilience in household spending. It increased 2.0 percent in January from a year earlier, versus expectations for a drop of 0.5 percent.
The current account balance for the month showed a surplus 600 billion yen compared with a 161 billion yen surplus estimated by economists.