Japan's Economy Grows at Slower Pace as Capex Proves Less Strong
(Bloomberg) -- Japan's economy expanded at a slower pace in the second quarter than initially reported, as growth in business investment proved less robust than first thought.
Gross domestic product grew at an annualized pace of 1.3% in the three months through June from the previous quarter, revised Cabinet Office data showed Monday, with strong consumer spending the main driver of the expansion. That compared with a preliminary reading of 1.8%. The revised figure matched analysts' median estimate.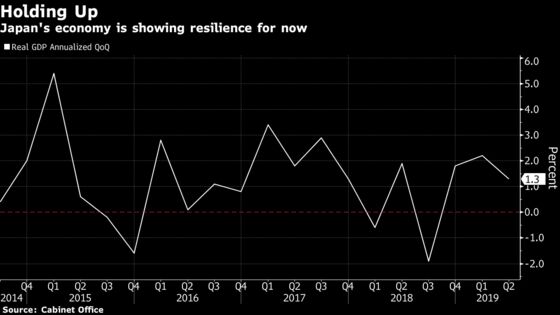 Economists had expected overall growth to be smaller than first estimated after finance ministry figures released last week showed manufacturers cutting back on business investment as escalating trade tensions darken the global outlook. That contrasts with the stance of more domestic-oriented non-manufacturers, which are continuing to ramp up capital spending as they automate processes to cope with a labor shortage.
Consumer spending has helped power growth this year as exports have fallen due to a slowing global economy and the U.S.-China trade war. Private spending is expected to continue showing strength through the third quarter, before taking a hit from a sales-tax increase in October.
The U.S.-China trade war is casting a shadow over the global outlook, and by extension the prospects for continued growth in Japan's trade-dependent economy. Japan is also keen to clinch a trade deal with the U.S. that would avert tariffs on auto imports.
Still, Japan's economy has continued to expand despite gloomy forecasts from economists expecting the global slowdown to buckle growth. While the export sector and manufacturers are showing signs of strain, domestic demand and investment by non-manufacturers remain solid for now.
The latest growth data come ahead of a Bank of Japan policy meeting next week where some economists are expecting the central bank to take further easing action to ward off any rises in the yen that could hit companies' profits and invite downward pressure on prices.
The growth figures show the economy is holding up while financial markets and the yen remain relatively stable, said Kazuma Maeda, economist at Barclays Securities. "Even possible action by the European Central Bank and the Federal Reserve seems priced in to markets. Considering all these points I think the BOJ will choose not to waste any policy ammunition at the September meeting."
What Bloomberg's Economists Say

"In sum, these revisions don't add up to anything that would challenge our view that the economy remains strong enough to weather a sales-tax hike in October...the main risk we see is the threat of U.S. protectionism hitting Japan's all-important auto sector."

--Yuki Masujima, senior economist
Click here the view the piece.
Business investment rose 0.2% from the previous quarter. Economists forecast was for a 0.7% rise.
Public investment was revised up to growth of 1.8% from 1.0%, another factor that supported the expansion.
Private consumption increased 0.6% from the previous quarter in line with a median estimate.
The current account balance for July was a surplus of 2.0 trillion yen, compared with a 2.05 trillion yen surplus estimated by economists.