Japan's Bump From Extra Budget Could Be Delayed by Slow Spending
The hoped-for bump in Japan's growth from a supplementary budget is likely to be delayed, given the increasing difficulty of actually spending it.
Japan this week approved an extra $29 billion of outlays between now and the end of March to support the economy and disaster reconstruction. But much of the money may not get used in that time, given constraints including the tightness of the labor market.
Any delay in deploying the first segment of Prime Minister Shinzo Abe's 13.2 trillion yen ($121 billion) stimulus package would hamper an economy that now faces additional downside risks from the coronavirus outbreak. That's while Japan already struggles to rebound from a likely contraction in the fourth quarter.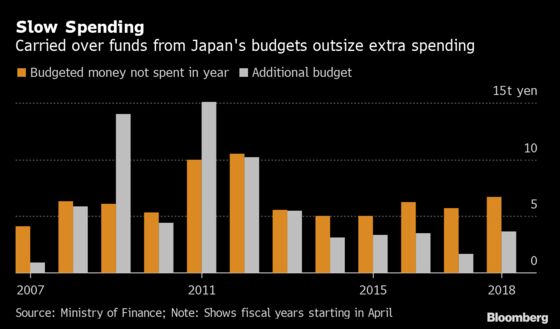 Japan has made a habit out of not fully spending the money its lawmakers authorize. In the past seven years, the left-over budgetary funding has exceeded the amounts of the country's supplementary spending packages.
Part of the reason: the country's tight labor market, which has had a particular impact on construction spending -- a typical outlet for public outlays. The unemployment rate, at 2.2%, is at its lowest since the early 1990s, and the working-age population is shrinking. The number of jobs available for applicants in the construction sector is consistently among the highest across Japan's industries.
"We're repeating this pattern where the current year's additional budget is actually being used a year later," said Taro Saito, an economist at NLI Research Institute.
That delay matters given the increasingly tricky situation Japan finds itself in. Following a sales-tax hike last October, economists expect Japan's gross domestic product to have shrunk an annualized 3.7% in the fourth quarter of 2019.
While the tech cycle appears to be showing signs of recovery and the U.S. and China have agreed on a phase-one trade deal, the unraveling effects of the new coronavirus have brought a technical recession into the realms of possibility. For now, economists still expect a rebound this quarter.
It would make more sense to divert the budget to areas that would contribute to future growth, such as new technologies, according to Harumi Taguchi, a Tokyo-based principal economist at IHS Markit.
"Public spending is needed for disaster relief," said Taguchi. But "when we can't actually spend it, we do need to reassess the approach," she said.