Japan Hunts For 6% Yield With Funds Buying Record Asia Bonds
(Bloomberg) -- Japanese investors bought the most emerging-Asian bonds on record last year, and their appetite is growing, money managers said.
They snapped up almost 1 trillion yen ($9 billion) of Asian debt in the first 11 months of 2019, according to the latest balance-of-payments data. Even though it's one month short of a year, that's a record in data going back to 2005.
A collapse in developed-nation bond yields last year as the Federal Reserve led a new easing cycle has pushed traditionally conservative Japanese investors into riskier assets. With an improving global trade outlook, emerging markets such as China and Indonesia will appear even more attractive.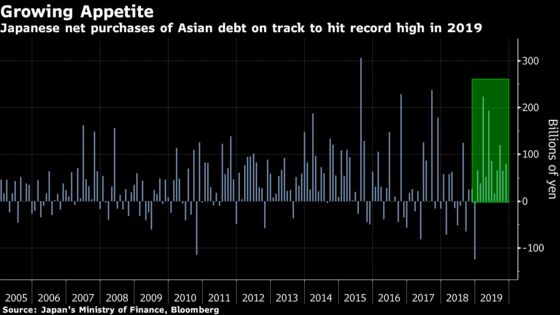 "Investors are allocating more funds into emerging markets to take more risks," said Shigeki Sakaki, chief strategist at Nomura Asset Management Co. in Tokyo. "There's a need to add bonds that are yielding around 3%-4% or 5%-6% into their portfolios."
Money managers in Japan have been buying bonds of countries such as Turkey and South Africa as well as Latin America, and their interest is spreading to Asia, according to Sakaki.
The Japanese data track investments into Southeast Asia, South Korea, India and Greater China. They also include Singapore and Hong Kong. According to the data, last year's purchases were at least 16% more than the previous high in 2014.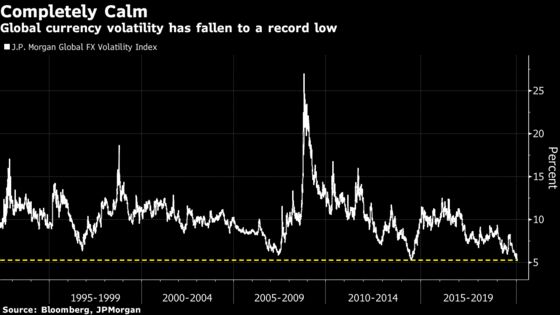 In an environment where global currency volatility has dropped to a record low, the returns offered by Asian bonds stand out.
While 10-year Treasuries yield 1.8% without hedging, similar-maturity debt in Asian countries ranging from China to Indonesia offer 3% to almost 7%.
Japanese funds have been buying more Chinese bonds as China makes it easier for foreigners to invest. Sumitomo Life Insurance Co. said in October it was weighing its first purchases.
"There are increasing views that the global economy won't slow down as U.S.-China trade affairs are expected to improve," said Eiichiro Miura, general manager of the fixed-income department at Nissay Asset Management Corp. in Tokyo. That will support risk appetite, he said.
To be sure, Japanese investments in Asian bonds are a fraction of what they own in developed-nation securities. They purchased more than 7.76 trillion yen of U.S. sovereign bonds in the first 11 months of last year.
Japanese investors bought 175.1 billion yen of foreign bonds last week, according to data from the Ministry of Finance. That came on the heels of 2.33 trillion yen of purchases the previous week, the most since September 2018.
Japan Post Insurance Co. has said it is prepared to assume more risk by increasing allocations to emerging-market bond funds.
"We are looking to raise returns of about 6%-7% in local-currency terms by investing in EM debt fund," Ryosuke Fukushima, general manager at the insurer, said in October. The company began investing in developing-market bonds in 2017 and holds several hundred billion yen of the investments through external asset managers, he said.