Debt Defaults From Italy to Japan Seen If Climate Fight Delayed
(Bloomberg) -- Countries from Italy to Australia will default on their sovereign debt by 2050 if there's a disorderly transition in the planet's efforts to fight climate change, according to research by FTSE Russell.
The index provider ran two models to assess credit risk, including a "disorderly" scenario where climate policies are not introduced until 2030 and lead to sudden or disruptive economic changes, and a "hot-house world" scenario, where greenhouse gas emissions increase until 2080 and global warming is over 3°C.
Ten of the 26 members of the FTSE World Government Bond Index are projected to default in the first scenario, also including Spain, Mexico, South Africa and Japan -- whose bonds are generally seen by investors as haven assets. In the latter model, three emerging-market economies and four Southern European countries would fail to pay their debts.
"Government bond investors have to keep in mind climate risk issues in the coming decades," said Julien Moussavi, one of the report's authors. "The countries that might suffer most economically from climate change won't necessarily be the ones whose finances are most at risk. It depends on each nation's fiscal room for manoeuvre."
Bond markets have already been adapting to the threat of climate change, with borrowers issuing record volumes of green bonds and investors often paying a so-called "greenium" in the rush to grab them. Progress has been slower in quantifying the climate risks for individual sovereign nations, a key question given many bonds won't mature for decades -- a timescale where models become uncertain.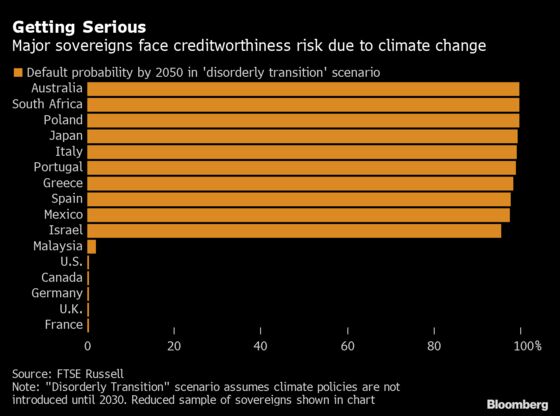 The transformation of the global economic system required to reduce emissions will hurt economies that are dependent on fossil fuels, FTSE Russell said. In a separate report earlier this year, it said a worst-case scenario would see Malaysia lose 31% of its per-capita gross domestic product by 2050, while the U.S. was projected to take a 20% cut.
The researchers explained the divergence between the two default scenarios by noting physical risks from climate change will hit emerging-market nations harder, whereas developed economies that are more carbon-dependent will be more affected by the policy transition.
"What we're trying to provide is more transparency," said Sylvain Chateau, global head of sustainable investing product management at FTSE Russell. "The message to investors is not to move away from these countries. It's just to make sure that they really understand the risk they're taking for the yield they receive."