Japan 10-Year Yield Falls Below Zero First Time Since September 2017
(Bloomberg) -- Japan's 10-year bond yield fell below zero for the first time since September 2017 as a slide in global equities fuels a rally in government debt around the world.
The benchmark yield dropped 2.5 basis points Friday to minus 0.005 percent, according to Japan Bond Trading Co., as the Nikkei 225 Stock Average declined on its last trading day of the year.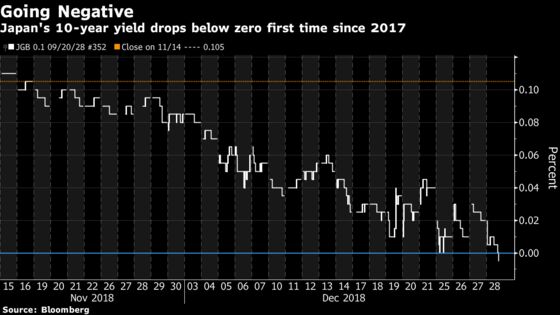 It's no problem if bond yields become negative as long as they reflect economic fundamentals and remain within the central bank's target range, Governor Haruhiko Kuroda said last week. Unease is strengthening among some BOJ board members over the inflation outlook, according to a summary of opinions from the Dec. 19-20 policy meeting published Friday.
"The BOJ is allowing the 10-year yield to fall into negative territory in line with the economic and price developments," said Mari Iwashita, chief market economist at Daiwa Securities Co. "So the yield is expected to see negative territory next year too as long as the current market conditions continue."
The summary also showed an opinion from one board member that "the long-term yields should be allowed to temporarily turn negative" with the strengthening of the framework for monetary easing set out in July.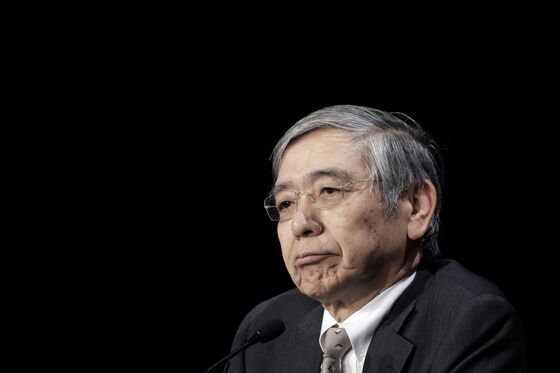 Japan's benchmark 10-year yield was as high as 0.155 percent in October. Over the same period, the U.S. 10-year yield has dropped to 2.72 percent from 3.26 percent.
Bond markets worldwide have rallied amid concern the global economy is slowing, with Japanese yields declining this month even as the BOJ cut purchases of five-to-10-year debt at its regular operations on Dec. 14 for the first time since June.
"Bonds are expected to be bought for haven purpose as declines in shares may force investors to refrain from taking risks," said Souichi Takeyama, rate strategist at SMBC Nikko Securities Inc. in Tokyo. Yields are also likely to come under downward pressure as concern that the BOJ will keep cutting purchases eases, he said.
The BOJ kept its plan for monthly bond purchases in January the same as December, according to a statement Thursday. The central bank has been reducing monthly purchases as its seeks to loosen its grip on its debt market where its massive purchases have crimped trading.