Italy Likely to Seek Extra Stimulus as Virus Outlook Worsens
(Bloomberg) -- Italy's new government may soon seek parliamentary approval for more stimulus spending as a sluggish vaccination campaign and new coronavirus strains extend the nation's reliance on fiscal support.
Prime Minister Mario Draghi's administration is planning to distribute about 32 billion euros ($38 billion) that was approved by the parliament in January through a new decree called "sostegno" or "support," according to people familiar with the matter.
While that spending, aimed at prolonging furloughs and helping weakened companies, could be finalized in coming days, it will likely run out shortly, the people said. The government may need approval for a wider budget deficit as soon as next month, they said, asking not to be identified as the discussions are confidential.
Spokespeople for the Treasury and the prime minister's office declined to comment.
Italian bonds extended their pullback on the news, with 10-year yields climbing for the first time in three days to hit 0.70%.
Italy was forced to tighten coronavirus restrictions starting Monday in five regions, including the Milan and Turin areas in the economic heartland of the country. Curbs include the closing of bars and restaurants and strict limits on people's movements. Some regions have also announced school closures which directly impact working parents.
The economy was already facing a difficult path to recovery after being ravaged by the pandemic. Output shrank almost 9% in 2020 and more than 130 billion euros has been spent so far on economic stimulus.
Public debt climbed to 155.6% of gross domestic product at the end of last year.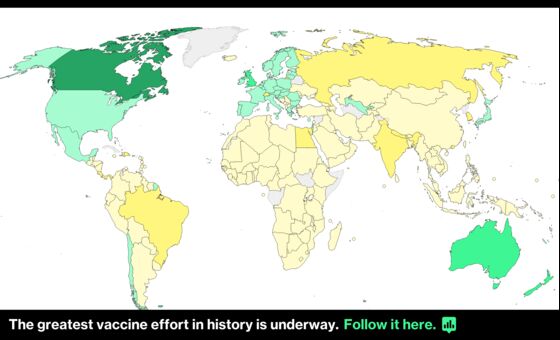 Draghi appointed a new coronavirus emergency czar on Monday to improve the country's vaccination campaign. Italy has administered 4.4 million doses of vaccines so far, giving less than 5% of the population at least one dose, according to Bloomberg's vaccine tracker.
That's in line with the European Union as a whole, but far behind the U.K. and U.S.