Europe Borrows Trump's Rhetoric on China to Give Xi Cool Welcome
(Bloomberg) -- European leaders took a page out of Donald Trump's playbook as they greeted Chinese President Xi Jinping with a series of complaints on trade when he arrived in Italy.
"China today for us is a competitor, a partner, a rival," Jean-Claude Juncker, head of the European Commission, told reporters after a summit with EU leaders in Brussels. "We can't construct something stable on the basis of persistent imbalances."
Both European and U.S. partners are worried about Xi enlisting Italy's populist government in his global Belt and Road infrastructure project which they see as a threat to sovereignty.
Xi meanwhile was met by an escort of guards on horseback in the Italian capital, a privilege usually reserved for visiting monarchs.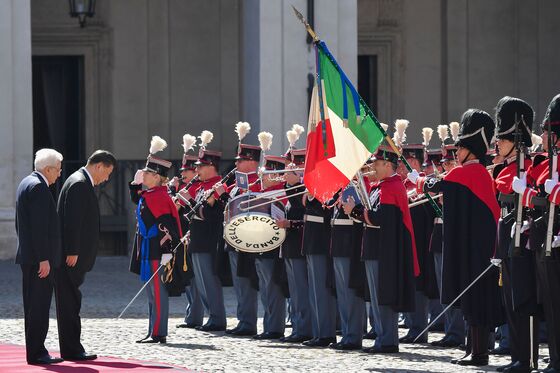 EU leaders are striving to bring China into the rules-based international order and want Beijing to commit to completing a trade accord removing barriers to the Chinese market for European companies. The U.S. president is himself locked in a trade tussle with Beijing.
Xi however set ambitious targets for ever-closer ties sought by President Sergio Mattarella and other Italian hosts. "China and Italy are partners on a strategic level, they have mutual respect and trust for each other," Xi said in a speech after meeting Mattarella.
About a dozen Italian companies will sign separate agreements with Chinese firms on Saturday, according to people familiar with the matter. They include engineering company Ansaldo Energia SpA, which will announce commissions from Shanghai Electric worth up to 200 million euros ($226 million), the people said.
"Xi in Rome: The escort fit for kings," headlined newspaper Corriere della Sera, before he was greeted at the presidential Quirinale Palace by guards on horseback -- an honor last bestowed on then-Pope Benedict XVI in 2010. Xi will also attend a gala dinner at the Quirinale this evening, with a concert by singer Andrea Bocelli.
As he looks to shore up Europe's united front, French President Emmanuel Macron, who will be hosting Xi in Paris next week, has pointedly decided to invite Juncker and German Chancellor Angela Merkel to join them to discuss issues such as trade and climate.
France and Germany scored a small win at the summit by persuading leaders to back an update of the competition framework to take account of new technological and global market developments. That partly meets the two countries' push to get the EU to recognize China as a threat. The hope is that would allow the creation of bigger European industrial firms, like a Siemens AG and Alstom SA would-be rail giant, which was blocked over antitrust concerns last month.
The EU Commission is also preparing to look at potential hurdles for foreign state-owned firms, like China's, in the EU market, such as penalizing countries which keep their procurement markets closed to European companies.
"The era of European naivety is over," Macron told reporters. "I have called from the beginning for a European sovereignty, against powers like China and the U.S. For years we have gone up against China each on our own, and they played off it."