Italy Central Bank Head Warns That EU Aid Isn't a Free Lunch
Italy's central bank governor issued a stern warning to the country that it can't accept aid money from the rest of Europe without also undertaking a serious overhaul of its economy.
Less than an hour after data showed the economy is in an even deeper slump than initially estimated, Ignazio Visco said at the central bank's annual meeting in Rome that European Union help to counter the recession induced by the coronavirus lockdown can't be "free of charge." He pushed for a "comprehensive package of reforms" for the country.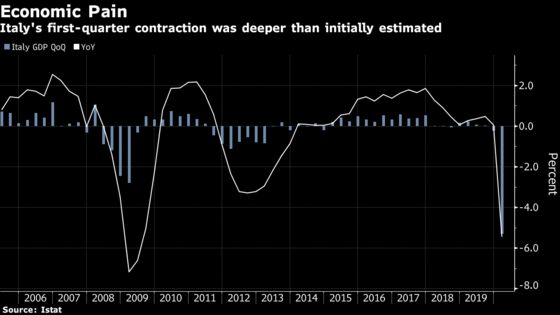 Italy's economy shrank 5.3% in the first quarter, the most since the current data series began in the mid-1990s. A deeper contraction is expected this quarter and the full-year slump is likely to exceed 10%, according to economists. The recession, along with spending on health measures, is piling more onto Italy's already considerable debt pile, exposing it once again as one of Europe's major weak spots.
"The current medium-term scenario hinges on no second wave of contagion (or at least a limited one, quickly ring-fenced) and the effectiveness of most policy measures," Lorenzo Codogno, a former chief economist at Italy's finance ministry, wrote in a research note. "The litmus test and the market sentiment driver will be the extent of the rebound in the third quarter."
In his comments Friday Visco, a member of the European Central Bank's Governing Council, effectively issued a a wake-up call to the government to get its house in order as part of the crisis recovery plan.
Opposition figures and even some politicians in the ruling coalition have already sparked controversy over the funds. Foreign Minister Luigi Di Maio, leader of the Five Star Movement, said in a Facebook post that most of the money should be used to cut taxes. That prompted a response from Italy's Minister for European Affairs Vincenzo Amendola, who quickly replied that the funds are for investments to boost growth.
In addition to the planned EU funds, Italy is already receiving help from the ECB, which is buying the country's debt to help keep borrowing costs in check. Italian sovereign yields spiked earlier in the year on concern about the impact from the virus.
Europe's efforts to shield its damaged member states is keeping investors on board for now. A sale of five- and 10-year Italian debt on Friday was met with steady demand, achieving its target amount of 6.5 billion euros ($7.2 billion), and follows record orders for a retail bond offering last week.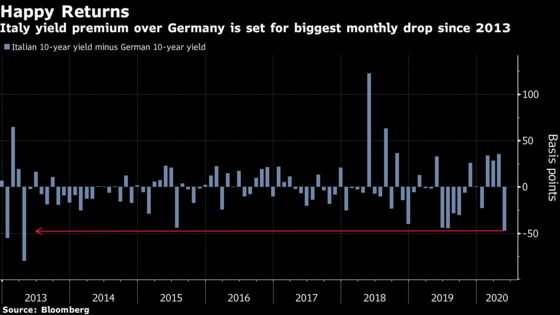 Visco said the recession doesn't endanger the sustainability of Italy's public debt, though its high level relative to GDP is an obstacle to economic growth. "Europe's debt is everyone's debt and Italy will always contribute greatly to the funding of European initiatives," he said.
The central bank meeting in Rome is traditionally a high-profile event. This time, Visco addressed an almost-empty conference room with less than 50 guests, all wearing face masks, including former ECB president Mario Draghi. Most bankers, executives, politicians and reporters followed online.
Read More: Is It Enough? Tracking Major Economies' Stimulus Measures
Citing John Maynard Keynes, Visco said there's a need for "a plan of long endurance" that "uses a time of general sacrifice not as an excuse for postponing desirable reforms, but as an opportunity for moving further than we have moved."
Everyone needs to realize the responsibility is collective in funding the recovery, he said, and it could lead to a deeper union if everyone plays their part.
"This would be the first step toward fiscal union and the completion of the European project."