Italy Seeks Dialogue on 'Necessary' Breach of Deficit Rules
(Bloomberg) -- Italy's populist government told the European Union that it is willing to temper its budget for next year, but it needs to break deficit rules to help out its poorest citizens.
In a letter to the European Commission published Monday, Finance Minister Giovanni Tria said he won't let the country's budget deficit widen further than the 2.4 percent target for 2019. He said he knows that the plans don't comply with EU rules and he wants "constructive" talks with officials in Brussels. Prime Minister Giuseppe Conte said the shortfall could even come in below target.
The decision to increase spending was "difficult though necessary," Tria said in his letter. He cited slow economic growth and the "difficult economic situation the poorest segments of the Italian society are facing."
Conte and Tria have come under fire from European officials and investors since bowing to pressure from Italy's coalition heavyweights Matteo Salvini and Luigi Di Maio to allocate resources to their key election promises: tax cuts, more benefits spending, and a lower retirement age. The Commission expressed "serious concern" about Italy's budget plans in a letter on Thursday.
Conte, speaking in Rome, said that the government was willing to cut spending if faced with economic difficulties. Over the weekend Cabinet Undersecretary Giancarlo Giorgetti said that the government can't ignore the risk to banks posed by this month's bond-market selloff.
EU commissioners will discuss Italy's budget at a meeting in Strasbourg on Tuesday, commission spokesman Margaritis Schinas told reporters in Brussels. They are likely to issue an unprecedented "negative opinion," according to an EU official with knowledge of the preparations. That will mean Italy has three weeks to submit a revised budget.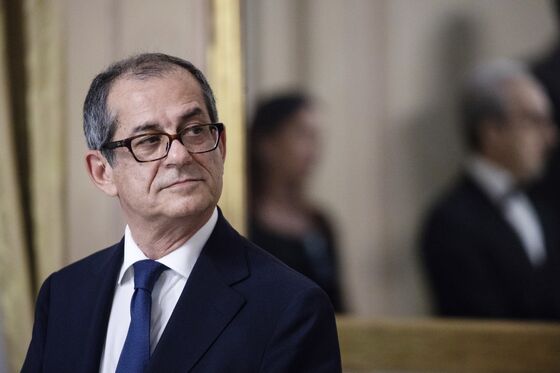 Italian bonds slipped after a rally earlier in the day. The spread over German 10-year yields widened by 3 basis points to 305 at 3:26 p.m. in Rome. The gap reached a five-year high of 341 basis points during trading on Friday.
Italian bonds have stabilized somewhat since EU Economic Affairs Commissioner Pierre Moscovici on Friday said he's not seeking a conflict with Rome. Italian assets also got support from Moody's Investors Service, which removed the immediate threat of a downgrade to junk at the end of last week. The rating agency cut Italy's rating to one step above junk on Friday and said the outlook is "stable" offering reassurance that a further cut isn't imminent.
The finance chief offered no indication that he plans to back down from the headline spending targets, paving the way for the EU to take the unprecedented step of demanding revisions.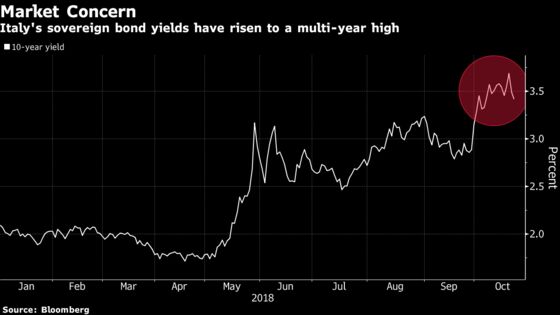 "While recognizing the divergence of the respective evaluations, the Italian government will remain in a constructive and fair dialogue," Tria added. "The government is confident it can get investment and GDP growth moving again and that the recent rise in the government bond yields will be reabsorbed as the investors learn about all the details of the measures in the budget law."
He added that after 2019 the government doesn't intend to raise the structural budget deficit -- adjusted to take account of the economic cycle and one-time items.
Concern about the impact of market turbulence on Italian banks is among reasons for the government's softening of tone since soaring government bond yields could put banks' capital levels at risk. The country's banks are also sitting on a 260 billion-euro ($300 billion) pile of non-performing loans, the biggest in the EU, from the last financial crisis and recession. A spread greater than 400 basis points would not be sustainable for Italian banks, according to an Oct. 7 note by Credit Suisse Group AG.
Prime Minister Conte signaled that Italy may not implement some of its most controversial spending plans until later next year, which could potentially lead to a narrower deficit. While the move is unlikely to appease the EU Commission, it was a sign that the government in Rome is looking at ways to reach a face-saving compromise.
In the meantime, League leader Salvini saw support for his party surge in regional voting in the north of the country on Sunday. The League won 11.1 percent in the Bolzano area near the border with Austria compared with 2.5 percent in 2013 when it ran in coalition with Silvio Berlusconi's Forza Italia.
Salvini's coalition partner Five Star polled at less than 3 percent while a pro-autonomy party came first with more than 40 percent.