Italy Said to Ready $1.8 Billion in Relief as Shutdowns Loom
(Bloomberg) -- The Italian government is readying new relief funding of at least 1.5 billion euros ($1.8 billion) for businesses affected by coming shutdowns to combat the spread of Covid-19, people familiar with the matter said.
Italy's latest decree, expected to be announced by Prime Minister Giuseppe Conte as soon as Tuesday, will include restrictions for a wide range of businesses in the country's hardest-hit regions, including much of the industrial north, according to the people, who asked not to be named discussing confidential deliberations.
All non-essential commercial activities will be closed in the regions of Lombardy surrounding Milan, Piedmont -- whose capital is Turin -- and Calabria to the south, the people said, asking not to be named discussing ongoing deliberations.
"The new decree will arrive in the coming hours," Health Ministry Undersecretary Sandra Zampa said on Rai radio Tuesday. "It will not be a rigid lockdown, but light, similar to German measures."
Germany's partial lockdown has included closing bars and restaurants while keeping schools and daycare open.
Essential services in Italy including pharmacies and supermarkets will remain open, as will "productive" operations including factories, the people said. Most other business categories, including bars, restaurants and barber shops will be shut. Other restrictions could see students from middle school level and higher shifted to online classes.
Conte has steered toward a regional response to the virus outbreak, as the government struggles to avoid a repeat of last spring's nationwide lockdown that brought an already struggling economy to its knees.
Regions with the highest transmission levels will be subject to tougher curbs under a new three-tiered system, Conte said Monday in parliament. These will come on top of some new nationwide measures including an agreed-upon time for an evening curfew. Lawmakers in the coalition may compromise on a 9 p.m. curfew, the people said, though the subject is still being debated.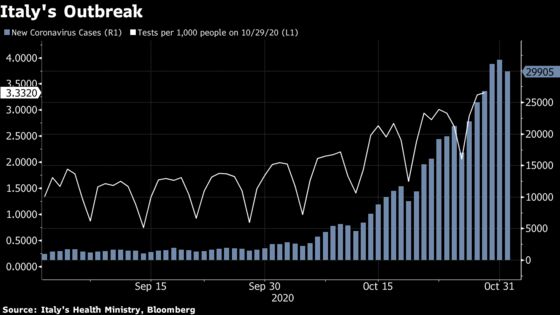 As many as five regions could fall into the "red" category, meaning they'd be subject to the strictest measures, la Repubblica reported Tuesday. In addition to Lombardy, and Piedmont -- which together account for a significant portion of the country's industrial north -- and Calabria, the autonomous regions of Alto Adige and Val d'Aosta would also be red zones, according to the daily.