Italy's Shuttered Industry Sees Output Plunge by Almost 30%
Italian industrial production fell almost 30% as companies were crippled by a near total lockdown on the economy caused by the coronavirus pandemic.
Production fell 28.4% in March from the previous month, national statistics bureau Istat said Monday. Production of machinery and equipment, one of Italy's main exports, weighed the most on the overall figure with a 39.7% decline. Textiles plunged 51%.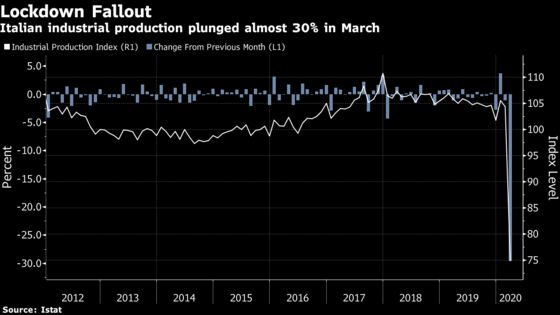 Italy, one of the original epicenters of the virus in Europe, began a regional lockdown in late February before expanding to the whole country in early March. The government started to relax its restrictions on May 4, and Prime Minister Giuseppe Conte is under pressure from businesses and coalition partners to speed up the process to stave off bankruptcies and unemployment.
The European Commission sees the country's economy shrinking 9.5% this year, after a 4.7% decline in the first quarter. Bloomberg Economics estimates a 13% output drop in 2020 which could swell Italy's massive debt ratio to well over 150%.