Five Star Demands More Spending Before Italy Budget Deadline
(Bloomberg) -- The anti-establishment Five Star Movement said it will block Italy's 2019 budget unless it includes full funding for the party's flagship plan to boost incomes for the poor.
Investors shrugged off the threat, judging Five Star leader Luigi Di Maio doesn't have the political weight to back it up. The spread between Italian 10-year bonds and similarly dated German bunds narrowed by 6 basis points at 11:25 a.m. in Rome.
The country's new fiscal targets will be announced Thursday and the budget will include citizens' income measures, finance minister Giovanni Tria said speaking at a conference organized by the retailers' lobby Wednesday.
"We don't want investors to doubt debt sustainability," he said. "We are working on a policy mix that can boost confidence in Italy."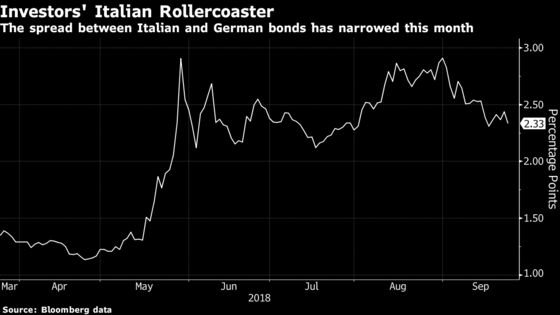 Di Maio told ministers from his party late Tuesday that he is prepared to withdraw support for the budget if his demands aren't met, according to a party official, who asked not to be named discussing private conversations.
The Five Star leader is trying to make a mark on the budget process less than 48 hours before the deadline to produce the government's main fiscal targets for next year. Despite leading the biggest group in parliament, 32-year-old Di Maio has been consistently left in the shade by the anti-immigration drive of his coalition partner Matteo Salvini during their four months in office.
"It goes without saying that the Five Star Movement will vote for a courageous budget, meaning a budget that keeps our promises," Di Maio, who is also a deputy premier, said Wednesday in an interview on Radio Capital. "People have to notice an improvement, otherwise it's not worth it."
With Prime Minister Giuseppe Conte in New York to attend the United Nations general assembly, officials have been discussing their key targets for the budget deficit and government debt levels under the supervision of Finance Minister Giovanni Tria.
Messaggero daily reported that Tria may settle on a deficit target between 1.9 percent and 2 percent of GDP for next year. La Stampa reported that Di Maio wants as much as 2.5 percent. Conte returns from New York on Thursday morning before a cabinet meeting to agree on the final target.
Di Maio and League leader Salvini have been pushing for extra resources to deliver their key election promises -- Salvini's League is aiming to lower income tax while both want to revoke a 2011 pension reform that raised the retirement age. But Italy's 2.3-trillion-euro ($2.7 trillion) debt puts a limit on Tria's ability to fund those policies.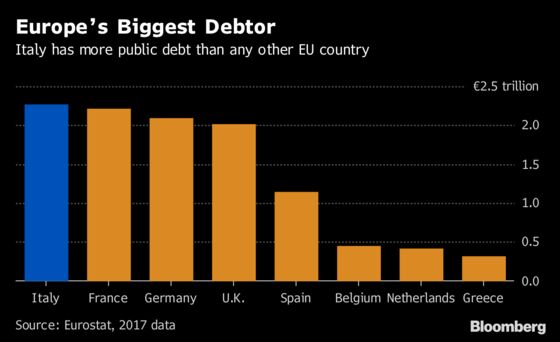 Tria has insisted that the coalition's plans will have to be implemented gradually over the five-year parliamentary term. "Beyond its name," citizen's income "measure we are designing goes in that direction," Tria said Wednesday.
Speaking to reporters in New York, Premier Conte said the government is still working on a budget that "will contain measures of social justice and fairness." He seemed to echo Di Maio's remarks on the government's priorities by adding that solutions for Italians in a difficult situation will be at the core of the budget.
After cabinet approval, the budget accord will head to Brussels for a strict examination by the European Commission, which has repeatedly warned Italy to get its debt under control. Italy's Parliament must ratify a final package by year end.
On Tuesday, Di Maio insisted in a Facebook post that the budget will deliver a lower retirement age and increase the lower pensions to 780 euros a month. That's the same as the minimum income he's aiming to establish for the poor.

The coalition partners are trying to get the economy going again after years of underperformance -- the European Union forecasts that Italy will have the slowest growth pace in the 19-nation euro region this year and next.
Last year's economic growth was revised up to 1.6 percent last week while the stock of public debt was lowered to 131.2 percent of GDP. The 2017 deficit at 2.4 percent was slightly wider than previously reported, due to lower tax revenue and higher spending.
During the first four months of the coalition, Salvini's hardline immigration rhetoric has won more support from voters than Di Maio's anti-establishment approach. A poll released this week by the SWG Institute showed support for Salvini's League rising to 32 percent while Five Star fell to 28.7 percent. In March's general election the League got 17.4 percent and Five Star got 32.7 percent.