Italy's Industry Output Drop Makes It Harder to Convince EU
(Bloomberg) -- (Bloomberg) - Italian industrial output fell less than expected, though the decrease will weaken the government's budget arguments with a skeptical European Union.
Italy faces a Tuesday deadline to respond to EU objections to the populists' draft budget for 2019. Officials in Brussels say the growth rate of 1.2 percent they foresee won't sustain Italy's expansive program.
Industrial production dropped 0.2 percent on a monthly basis in September, smaller than the median estimate of a 0.5 percent drop in a Bloomberg survey of 19 analysts. Industrial production contracted 0.2 percent on a quarterly basis in the third quarter, national statistics agency Istat said Monday in Rome.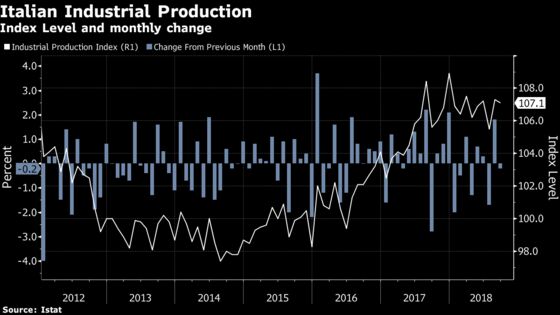 The output decline adds to signs of an economic slowdown in the final three months of this year that may well spill over into 2019.
The economy stalled in the third quarter while Istat last week highlighted "the persistence of a weak phase in the economic cycle."
The government's plans to cut taxes and increase benefits are testing investors' risk tolerance, while running afoul of EU rules with its 2.4 percent deficit target.
"I hope we will come up with a common solution, but if you're talking about splitting things down the middle -- I don't see how that's possible," EU Economics Commissioner Pierre Moscovici said Thursday. "We need to get closer together, but we need to respect the rules."
From a year earlier, Italy's work-day adjusted production rose 1.3 percent in September, Istat said.
Capital goods fell 1.6 percent in September, contributing the most to the monthly contraction.
September industrial production data for the entire, 19-nation euro area will be released on Wednesday in Luxembourg.