Italy's Spending Drives Unexpected First-Quarter Economic Growth
Italy's economy unexpectedly grew 0.1% in the first quarter of the year, helped by over a year of government spending to counter the impact of successive lockdowns.
Quarterly growth was revised from a previous reading that showed a contraction of 0.4%, Italy's national statistics bureau, or ISTAT, said on Tuesday.
The figures could help bolster confidence in Italy's economic rebound after being one of the hardest-hit European nations by the pandemic in 2020, when gross domestic product shrank almost 9%. Italian government bonds held gains after the data, with the yield on 10-year securities down two basis points to 0.89%.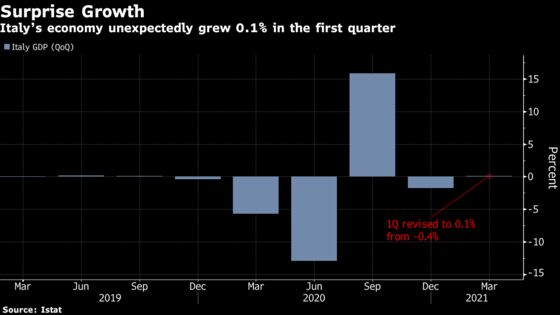 The government pumped over 170 billion euros ($208 billion) into the euro area's third-largest economy over the past year. Results are starting to show in areas like non-residential construction, which grew 5.2% on the quarter. Investments in housing also increased by 4.8% in the same period, according to Istat data.
"Productive activity in the country is improving," Prime Minister Mario Draghi said in a speech on Tuesday. "We have a new phase ahead of us, a phase of recovery and confidence"
Other government measures included a 110% "super-bonus" tax deduction for building renovation.
Growth was also aided by manufacturing, which has helped offset the struggle of services such as tourism.
The quarterly revision means the economy shrank 0.8% compared with the same period a year earlier instead of a 1.4% contraction as previously thought.
Bank of Italy Governor Ignazio Visco said Monday that the economy was likely to grow more than 4% this year, driven by the reopening of businesses as well as funds pledged by the European Union.