Italy's Economic Outlook Makes Budget Blowout a Tough Sell
(Bloomberg) -- Italy's populist government has big plans for its first budget, but the economy isn't providing the support to justify splashing out.
Forecasts show the Italian expansion will slow through 2020 and continue to under-perform the euro-area average. Bloomberg's latest monthly survey of economists also sees inflation picking up, while unemployment -- still in double digits -- will only very slowly decline.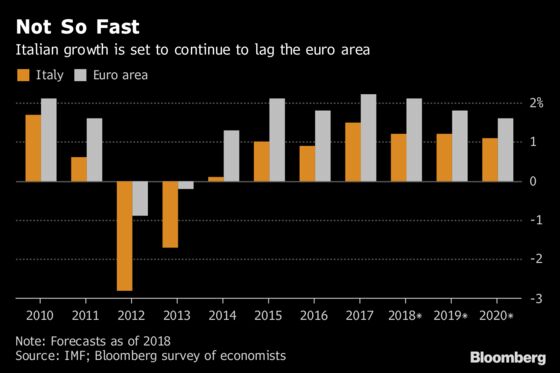 All that means less revenue to fund the tax and spending plans that are among the cornerstones of the coalition of the anti-establishment Five Star Movement and the anti-immigrant League. It wants to boost incomes and help poorer Italians, yet the fiscal ambitions have rattled investors, pushing up the country's borrowing costs.
Deputy Premier Matteo Salvini continued his pushback against markets on Monday, saying the government will "resist the bond yield spread, speculation, credit downgrades, attacks, disputes." Italian bonds rose on Monday, though the 10-year yield remains above 3 percent, compared with about 2 percent six months ago.
Cabinet Undersecretary Giancarlo Giorgetti said in an interview with Il Messaggero published Sunday that it's up to Italy to be "credible," though he also said he hopes the European Central Bank will extend quantitative easing to help protect the country from financial speculators.
The government's plans are also at odds with budget demands from the European Commission. The collapse of a bridge in Italy last week may inflame tension by pushing Italy to ramp up spending infrastructure, something it says shouldn't be included in deficit calculations anyway.
EU rules combined with the rigors of the bond market limit Italy's room to maneuver.
If the government breaches the bloc's deficit limit of 3 percent of gross domestic product, the premium to hold Italian over German debt could widen to 470 basis points, according to a Bloomberg survey of banks. That's a level not seen since the euro-area debt crisis. If the government plays ball in the September budget, it may be rewarded with even lower borrowing costs than at present.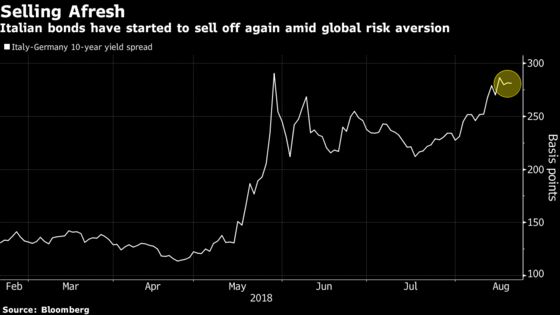 While investors want fiscal responsibility, Italians want more in their pockets, particularly after election promises that ranged from basic incomes to flat taxes.
Unemployment at least is on a downward trend, though a lot of that is due to contract work that lacks the security of permanent jobs. Yet the decline is slow, and the jobless rate is forecast to remain above 10 percent for some time. That compares with the euro-area rate of 8.3 percent and the envious sub-4 percent levels of Northern European nations like Germany and the Netherlands.