Italy's Deficit May Be Close to 10% in Second Year of Crisis
(Bloomberg) -- Italy's budget deficit is likely to be close to 10% of gross domestic product for a second year as successive lockdowns force the country to boost spending, according to people with knowledge of the matter.
Such a projection may feature in Prime Minister Mario Draghi's new public-finance targets in mid-April, which will also include a higher debt tally for 2021, pushing towards 159% of output, said the people, who declined to be identified discussing undisclosed government forecasts. The figures aren't final and could still change before they're unveiled.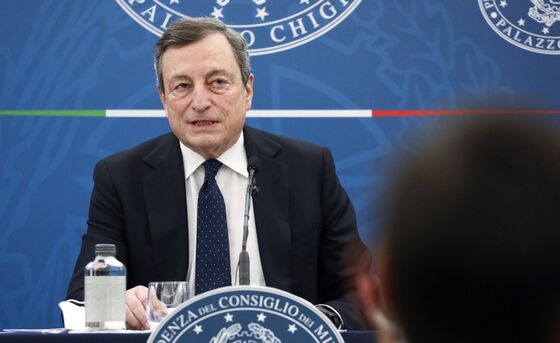 Both those numbers are noticeably higher than in the previous outlook released in October under former premier Giuseppe Conte, reflecting the persistence of the crisis since then. At the time, officials anticipated a deficit at 7% this year, with the debt ratio near 156%.
The forecasts will also show the economy growing only 4.1% this year, compared with a prior outlook for 6% expansion, and then 4.3% in 2022, Reuters reported earlier today.
A spokesperson for the finance ministry declined to comment.
Draghi formed a national unity government in February to try to stabilize the country's economy. Italy has been among the nations hardest-hit by the pandemic, with over 100,000 deaths so far, and a GDP contraction of almost 9% last year.
The government has spent more than 130 billion euros ($153 billion) on stimulus measures and will soon seek parliamentary approval to further widen the deficit this year. A slow vaccine rollout and persistent lockdowns have swelled monthly lockdown costs to between 10 and 15 billion euros a month.