Italy's Embattled Conte Doubles Down on Bid for Crisis Debt
(Bloomberg) -- Italy's embattled government is pushing for an even bigger-than-expected deficit expansion just as the euro-zone's third-biggest economy reels from a resurgent coronavirus outbreak and a deepening political crisis.
The bid by Prime Minister Giuseppe Conte's team for a 32 billion-euro ($39 billion) increase in debt, agreed on by the cabinet on Thursday evening, is a third larger than the amount Finance Minister Roberto Gualtieri touted in an interview last weekend.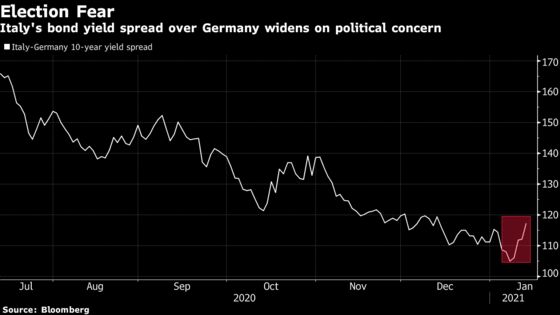 That expanded funding need raises the stakes for the government as it faces a dramatic political impasse sparked by former premier Matteo Renzi's withdrawal of his party from the cabinet. The move robbed Conte of a working majority, leaving his administration teetering in limbo that could last days or weeks.
Conte is due to appear in parliament next week where he'll face confidence votes in the lower house on Monday and -- in a key moment for his government -- the Senate on Tuesday, Italian media reported Friday.
"Opening a government crisis in the middle of the pandemic, when we need to pass difficult measures, in order to contain the contagion and to support the economy, has been an irresponsible act," Gualtieri told Rai 1 television on Thursday.
The question of how Italy should disburse its own money and European Union aid has been a key element in the argument between Conte and Renzi, who criticized the premier's handling of an unprecedented spending opportunity for the country and sought to divert more cash to health spending. He also wanted Italy to use cheap funding from the European Stability Mechanism, a move resisted by Conte.
The turmoil comes at a fraught moment for Italy, whose economy is crippled by lockdowns to control the pandemic, just as the country garners extra attention with its turn at the leadership of the Group of 20 nations.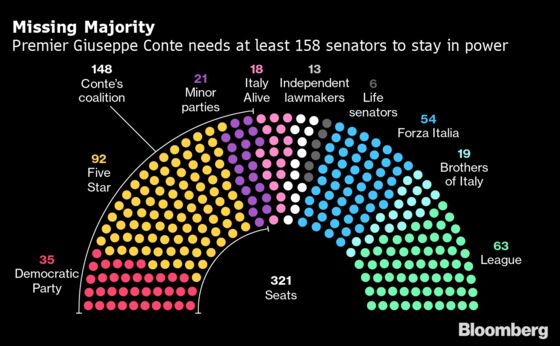 The government's funding request must be approved by parliament. The money will be used to compensate businesses hit by coronavirus restrictions and extend furlough payments for workers, as well as healthcare spending, the cabinet said in a statement.
This is the fifth time the government has sought to expand its borrowing limits since Italy went into its first national lockdown last March, and the extra amount suggests a desire to front-load its bid for more debt space early in the year. The additional spending is on top of the current projection of a deficit equal to 7% of GDP in 2021.
Getting backing for the debt expansion would be just the first step in Conte's uphill struggle to shore up his precarious political position. Italian bonds fell on Thursday after a report by Ansa newswire that the Democratic Party -- part of the ruling coalition -- sees a risk of fresh elections in June.
Conte might be able to hold off a new vote by winning the confidence votes, possibly by relying on forces including some members of Silvio Berlusconi's Forza Italia party. The premier has agreed with President Sergio Mattarella to avoid a new national ballot until new relief and deficit legislation is passed, daily la Repubblica reported.
Other possible outcomes could include the establishment of a caretaker administration, or for a broad alliance including coalition parties and possibly center-right forces to form a government under a figure such as ex-European Central Bank President Mario Draghi.
"A snap vote, the worst scenario for investors, remains unlikely at this stage," said Lorenzo Pregliasco, a political analyst at YouTrend.