Italy Open to Weidmann Becoming ECB President, Tria Tells Welt
(Bloomberg) -- Italy is open to Bundesbank head Jens Weidmann succeeding Mario Draghi as president of the European Central Bank, Finance Minister Giovanni Tria said in an interview with newspaper Welt.
"I do not want to go that far and say I support these ambitions. But I'm open to them," Tria said. "I am unbiased." The post becomes available in November, after Draghi's term ends.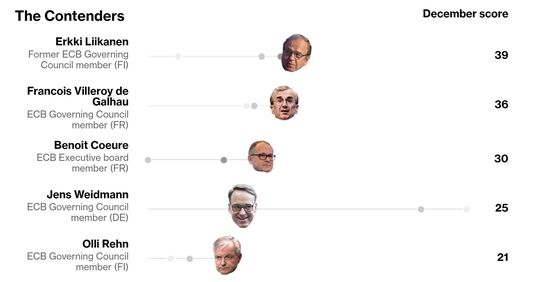 Weidmann, considered a monetary hawk, was once seen as the frontrunner to succeed Draghi as the euro region's highest central bank official and become the first German in the job. However, he suffered a setback when compatriot German Manfred Weber was put forward by the European People's Party as their candidate for European Commission president.
European Union governments are unlikely to allow Germany to fill two such senior posts, but Weidmann's chances could improve if Weber's bid fails after EU Parliament elections in May. The appointment will be part of complex government horse-trading, focusing on nationality and gender as well as expertise.