Italy Keeps Europe on a Downer Amid Recession Scare for Germany
(Bloomberg) -- Slumping production in Italy added to ominous signs for the European economy, days after Germany slid closer to recession.
Italian industrial output fell 1.6 percent in November. That matched a similar trend in huge output declines in Germany, France and Spain. The continued disappointing run of numbers is undermining hope that the current slowdown will stabilize rather than turn into something more worrying.
| Country | November Industrial Production | Forecast | October |
| --- | --- | --- | --- |
| Germany | -1.9 | +0.3 | -0.8 |
| France | -1.3 | 0 | 1.3 |
| Italy | -1.6 | -0.3 | -0.1 |
| Spain | -1.5 | n/a | 1.1 |
While the production figures cover the end of 2018 -- and can be erratic -- there's reason to be concerned about the outlook, with multiple economic, political and financial risks. Late on Thursday, European Central Bank Governing Council member Francois Villeroy de Galhau said policy makers must take it slow in the current environment, and cited threats including Brexit, the maturing of the U.S. cycle, and "numerous uncertainties'' in China.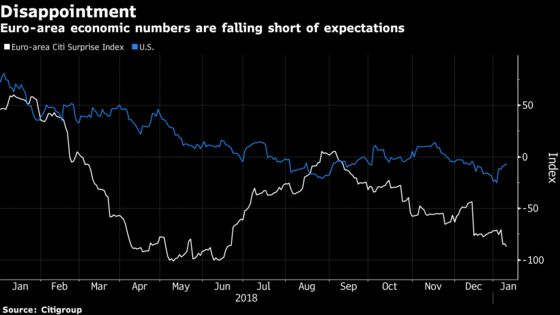 JPMorgan Chase & Co. on Thursday cut its euro-area growth forecast and pushed out its prediction for the first ECB interest-rate increase to December from September. Citigroup's Surprise Index, which measures data surprises relative to market expectations, is at a seven-month low.
The big shock this week was Germany, the region's biggest economy, where the slump in industrial output prompted talk that Europe's largest economy could slip into a recession. Commerzbank on Friday downplayed the gloom, saying the disappointment will be countered by better consumer demand.
Last year saw the euro area stumble its way through a host of hurdles, from Italy's budget battles to car production disruption in Germany and riots in France. Overlaying all that was U.S.-China tension, though there's some optimism now that the world's two largest economies may prevent an all-out trade war.
What Our Economists Say...
"Italian industrial production plunged in November, probably because of a shock to confidence created by Rome's budget battle with Brussels. The data significantly increase the likelihood that the economy contracted again in the final three months of the year, sending Italy into recession."

--David Powell, Bloomberg Economics. Read more
Trade difficulties are also adding to concerns. Juergen Stackmann, head of sales for the Volkswagen brand, said Thursday that trade tensions have hit demand in China and that some of that will linger. "There will still be some nervousness in the first half of the year," he told Bloomberg Television.
For ECB President Mario Draghi, the major positive -- which he regularly highlights -- is the labor market. Jobs growth continues, unemployment has dropped below 8 percent for the first time since 2008 and wages are starting to improve.
As the one-offs of 2018 fade, growth should stabilize, albeit at a slower pace. Economists see expansion of 1.6 percent this year, down from 1.9 percent.
"Some of the fears that may be holding back the economy will fade," said JPMorgan economists led by Greg Fuzesi. "For example, that auto tariffs and a hard Brexit are avoided in the near term, that Italy muddles along, that French protests remain less disruptive."