Italy Jobless Falls to Lowest Since 2012, Boosting Populists
(Bloomberg) -- Italy's jobless rate fell to 9.7 percent, the lowest level since January 2012, aiding the government coalition's push to put more people back to work.
Unemployment declined in August from a revised 10.2 percent the month before, Rome-based national statistics office Istat said in a preliminary report on Monday. The rate was far below the 10.5 percent median of 11 estimates in a Bloomberg survey.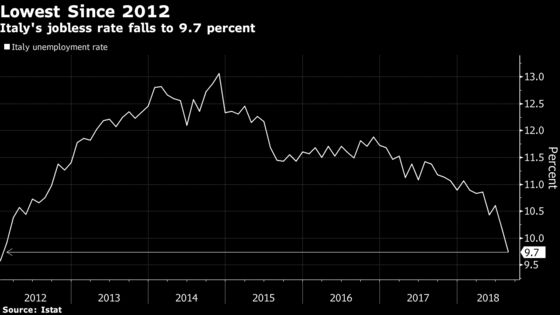 August jobless figures for the 19-nation euro area will be released at 11 a.m. CET in Luxembourg, after a reading of 8.2 percent in July.
Italy's economic recovery accelerated in 2017 when the gross domestic product expanded 1.6 percent, or the most since 2010.
A slowdown is forecast for this year.
There were about 69,000 more people employed in August, while 119,000 more Italians were looking for a job. Youth unemployment rose slightly to 31 percent, after hitting 42.9 percent in 2014. The number of inactive people in working age rose by 46,000 in August.
Istat initially reported an unemployment rate of 10.4 percent in July.