Italy's Failure to Cut Debt Is a Risk for Europe, EU Warns
(Bloomberg) -- Want the lowdown on European markets? In your inbox before the open, every day. Sign up here.
The European Commission issued another sharp warning on Italy, saying the country's massive public debt and long-lasting productivity weakness are risks for other countries in the region.
While stopping short of using the word "contagion," the Commission stressed how Italy's problems affect others. It said the debt ratio –- more than twice the EU limit -- isn't going to decline, and slammed the government for a budget that reverses "previous important reforms.''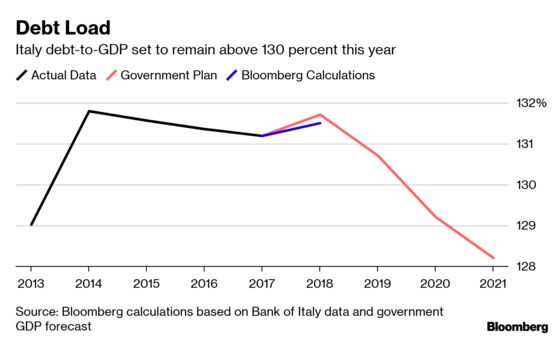 "Italy is experiencing excessive imbalances," the Commission said Wednesday in its annual assessment of the economic and social situation in EU member states. "High government debt and protracted weak productivity dynamics imply risks with cross-border relevance."
The euro region's third-biggest economy entered a technical recession at the end of last year after contracting for two straight quarters. In December Premier Giuseppe Conte's populist government reached a deal with the Commission on this year's budget, after revising down the deficit target and the forecast for economic growth this year.
Italian bonds extended declines after the report with the 10-year yield rising to 2.75 percent and its spread to Germany's equivalent bunds up 5 basis points to 263 basis points.
There was further evidence on Wednesday of Italy's position as the weak spot in the euro area. Economic sentiment in the country plunged in February, while an average for the currency region declined only modestly.
Uncertainty about the populist administration's plans "resulted in slower economic growth" and weighed on the broader euro-area outlook, Commission Vice President Valdis Dombrovskis said in an interview with Bloomberg Television in Brussels earlier on Wednesday.
Italy's recession is a serious concern, French Finance Minister Bruno Le Maire said last week in an interview with Bloomberg News, as the slump "will have a significant impact on growth in Europe and can impact France."
The government targets a reduction of debt to 130.7 percent of gross domestic product this year and 129.2 percent in 2020. The EU limit is 60 percent.
Last week Fitch Ratings kept its negative outlook of Italy's credit while warning that the extremely high level of general government debt poses a risk. Italian business and economic confidence fell this month, a separate report by Italy's statistics office said on Wednesday.
The sentiment survey is "consistent with our view that the euro-zone economy will expand by about 1 percent this year, but that Italy's economy will struggle to grow at all," said Jack Allen, an economist at Capital Economics in London.