Italy Faces Slower Growth, May Curb Deficit Cut Pace, Tria Says
(Bloomberg) -- A likely slowdown in Italy's economic growth may lead the new government to reduce the pace of budget deficit reduction, the finance minister said.
"We think that the forecast budget levels for the next years, and in particular 2019, require a too strong adjustment," Giovanni Tria told lawmakers in Rome on Tuesday, citing data that point to slower-than-expected economic growth this year. "We don't think it's useful to pursue policies that may turn out to be heavily pro-cyclical should growth be actually slower" than expected, he said.
"We started a dialogue with the European Commission aimed at setting a deficit target, which is consistent with the goals of enhancing growth and employment."
Italy's 10-year bond extended gains after Tria's comments with the yield falling 4 basis points to 261 basis points as of 12:55 p.m. Rome time.
For the current year, the government won't pass any budget adjustments and "plans also to avoid measures that can worsen the current situation in public financing," Tria said. The government believes it can still end 2018 within the targets set by the previous government, he said.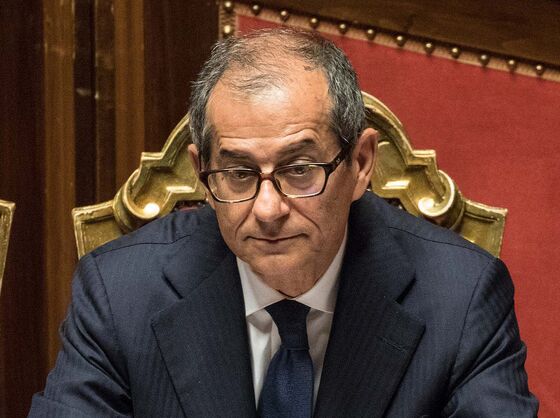 Then-Premier Paolo Gentiloni's government in April predicted that the deficit would fall to 1.6 percent of gross domestic product this year with the debt projected at 130.8 percent of GDP, down from 2.3 percent and 131.8 percent respectively in 2017.
The government is still aiming at improving the structural budget situation, Tria said, adding that is key to maintaining the confidence of financial markets. It will also liaise with European Union institutions in order to obtain room for the fiscal-policy targets it will set after summer that are necessary to implement the government program.
The so-called government contract signed by the Five Star Movement and the League, the two ruling parties, includes the introduction of an universal income-support measures to fight poverty and help unemployed to find new jobs. The other key point is the "flat-tax" measures which aim at setting two tax brackets for families and companies both at lower level than the current ones.
While the general conditions of the Italian economy are good, the nation's exposure to the trends of global trade can limit its exports and growth at a time of a slower world commerce and protectionist policies, Tria said. "It's in our own interest to operate in order to avoid a trade war," he added.