Guessing Game Over Italy Growth Numbers Frustrates EU, Investors
(Bloomberg) -- The European Union showed no sign of warming to Italy's budget outline as the populist government in Rome prepared to flesh out its fiscal plans before sending them to Brussels.
Antonio Tajani, president of the European Parliament, predicted Italy's administration would overshoot the budget-deficit target of 2.4 percent of output it has set for next year. And senior EU officials said that target itself was likely to be found insufficient by the bloc.
The sparring came as investors nervously awaited more details on the Five Star Movement-League government's first budget to see how far it would push EU rules. A week after it released a deficit target for next year, the ruling coalition still hasn't published the economic growth forecasts underpinning it. The government is targeting growth of 1.5 percent in 2019, 1.6 percent in 2020 and 1.4 percent in 2021, said a senior official who asked not to be named since the estimates are not yet public.
In a partial climb-down late Wednesday, the coalition did pledge to reduce the shortfall target in 2020 and 2021 -- after the EU pushed for lower spending plans.
Deputy Premier Luigi Di Maio told reporters in Rome that the government is targeting growth of between 1.5 percent and 1.6 percent, but did not give further details when asked which years he was referring to. He said the growth might also be higher once measures such as lower pension age, citizens' income and tax cuts start to have "expansionary effects" on the economy and allow for debt and deficit-to-GDP reduction.
Tajani told newspaper il Messaggero he doesn't think the deficit goal "will be sufficient because the growth rate is too low" and the 1.6 percent growth forecast "is just propaganda." It's obvious that "those who are supposed to lend us money to finance the public debt don't like" the plan, said Tajani, a co-founder of Silvio Berlusconi's center-right Forza Italia.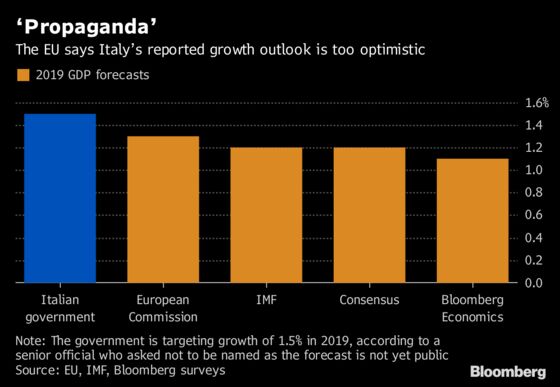 EU officials said the proposed 2.4 percent deficit target for 2019 isn't in line with the bloc's rules, which require countries with large debt loads to reduce them at an agreed pace. This means that if Italy doesn't change its spending plans by the time it submits them to Brussels, the European Commission will likely say the country is in serious breach of EU rules and ask for revisions.
Italian bonds, initially buoyed by the revised deficit numbers, later slid in line with their European peers following U.S. Treasuries. Ten-year yields rose to 3.32 percent, having touched 3.46 percent Tuesday, the highest level in more than four years. The yield spread over Germany was at 281 basis points, down from 304 basis points.
Finance Minister Giovanni Tria, speaking at a Rome event Thursday, kept investors guessing on numbers and distanced himself from populist leaders' attacks against the EU. "You may not comply with some of those rules, but if a counterpart says that those rules were violated you can not get offended," said Tria. "We need to explain what are the reasons for that and what are the objectives" of a policy, he added.
The government is targeting economic growth of 1.6 percent for next year, Deputy Finance Minister Massimo Garavaglia told RAI television Thursday morning. "It should be the same for the two years after that," the League's Garavaglia added when asked about the target for 2020 and 2021.
Deputy Premier Matteo Salvini again hit back at the EU. The League leader branded inappropriate "the tone of some EU commissioners," just because "we have put limits on immigration." He spoke in an interview with RAI radio.
The government will allocate about 8 billion euros ($9.2 billion) in next year's budget to the so-called "citizen's income" for the poor and 7 billion to 8 billion euros to rolling back the Fornero pension reform raising the retirement age, Salvini said. The budget aims to boost labor productivity, he added.
League and Five Star officials had said late Wednesday that 10 billion euros would fund the basic income, 7 billion euros for the pension change, 2 billion euros for tax cuts, and 1 billion euros for hiring police.
All measures envisaged in the budget will be fully funded, Di Maio told Radio Radicale Thursday. He said Tria will remain finance minister, following media reports that Tria had threatened to resign last week over the deficit targets. "There is no point in changing a winning team," Di Maio said.
The government's deficit goal for next year is triple the previous administration's target of 0.8 percent of gross domestic product set back in April. Tria has repeatedly said that was no longer achievable. The government aims to reduce the shortfall to 2.1 percent in 2020 and 1.8 percent in 2021.