Italy, EU Stage Sideshow Fight As Recession Risk Looms
(Bloomberg) -- Italy's budget dispute with the European Union may soon look like a sideshow if the country slides deeper into an economic rut and a potential recession.
Signs point to weak, if any, economic growth this quarter, with a risk of a second contraction still present. If that's the case, the Rome-Brussels megaphone diplomacy will pale in comparison.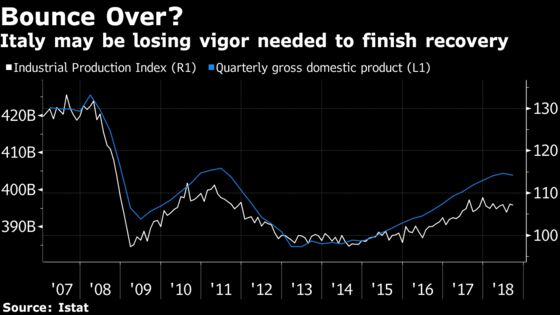 Economists in a survey published Monday downgraded their projections and see growth of just 0.1 percent this quarter. Barclays and Bloomberg Economics expect a contraction, which would tip the country back into recession. Expansion next year is forecast to be less than 1 percent.
Despite the recent negative trends, Italian industrial production rose 0.1 percent in October from the previous month and 1 percent from a year earlier on a work-day-adjusted basis, according to a report by the nation's statistics office Istat.
The populist government looks set to revise its fiscal goals in a token concession to the EU. But a new slump, with its implications for unemployment, credit ratings and the nation's banks, would dwarf investors' concerns about that dispute. The fallout on government revenue will also call into question Italy's ability to rein in its huge debt load.
With such a dim outlook for economic growth, which is the denominator of the deficit and debt ratios, the very basis of the clash looks shaky. The same applies to Rome's 2019 GDP target of 1.5 percent.
BE Primer: Italy's Recovery Is at Risk Amid Budget Turmoil
"The realization is likely to dawn that the targeted budgetary shortfall is somewhat academic," said Richard McGuire, Rabobank's head of rates strategy. "The government's hugely over-optimistic growth assumptions mean it is likely to be missed by some margin in any case."
If investors take fright at a renewed slump, that could hit Italy's bonds. Despite a modest improvement, the 10-year yield remains above 3 percent, compared with about 1.7 percent a year ago. It was up by one basis point at 3.15 percent as of 10:02 a.m. Rome time, leaving the difference or spread with the equivalent German bund's yield at 290 basis points.
Italy will be paying more than 5 billion euros ($5.7 billion) in extra debt interest in 2019 if the higher yields "remain consistent with current market expectations," the Bank of Italy says. That would jump to about 9 billion euros in 2020. Further declines in government securities would also affect the capital of the country's smaller banks.
The alarm bells started to ring on the last day of November, when third-quarter data was revised to show a contraction. Since then, reports showed that manufacturing and services continued to shrink while confidence has fallen.
The GDP decline was partly related to a slump in Germany, one of Italy's main trading partners. If it rebounds, as expected, that will help Italy also, perhaps staving off the worst predictions.
According to Raffaella Tenconi, founder of London-based ADA Economics, minor revisions to the deficit will have little effect on the debt trajectory. A recession would be a whole different story.
"The key issue is now the growth plan, the one dictating the public-debt sustainability in the long term," she said. "Everything else is a short-term distraction."